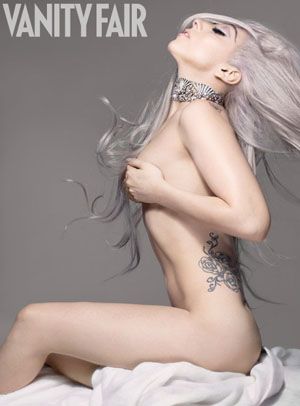 News & Trends:
With her over-the-top ensembles and bizarre on-stage antics,
Lady Gaga
delivers a heavy dose of unadulterated entertainment. And just when we thought we'd seen it all, the singer ups the ante and bares it all in a recent issue of
Vanity Fair Magazine
. Can you say "Shock factor?"
Gracing the cover of September's
Vanity Fair
, Lady Gaga hides behind nothing more than a long platinum wig, a diamond choker, and a provocative smirk. Photographed by Nick Knight, the cover captures the star making a universal peace sign, with a caption that reads: "Gaga the Lady ─ Naked Came the World's #1 Pop Star. Who is she? Why is she? Should you worry?" While the cover proves to be newsstand ready ─ still leaving a little to the imagination ─ the inside spread features a more flamboyant Gaga.
In an interview with Vanity Fair contributing editor Lisa Robinson, Lady Gaga exposes not only the goods, but also reveals many of her most intimate confessions, as she speaks candidly about sex, romance, and drug addiction. Gaga shares details about her celibate lifestyle, offers insight into her tormented childhood, and provides detailed accounts of both past and current drug abuse.

"I won't lie; it's occasional. And when I say occasional, I mean maybe a couple of times a year," says Lady Gaga.

Before Lady Gaga was her fierce self, she was Stefani Germanotta, a plain Jane Jersey girl, who set her sights on the bright lights of New York City. Lady Gaga confesses that her desire to be rock-star skinny stemmed from the fact that she was bullied for being a fat and ugly child. Gaga also tells Vanity Fair that despite her fame and fortune, she is still lonely and continues to have bad luck when it comes to relationships.

"I'm perpetually lonely. I'm lonely when I'm in relationships. It's my condition as an artist...I'm drawn to bad romances. And my song (Bad Romance) is about whether I go after those (sort of relationships) or if they find me. I'm quite celibate now; I don't really get time to meet anyone."

"I have this weird thing that if I sleep with someone they're going to take my creativity from me through my vagina," Lady Gaga adds.

Many love her. Many hate her. But one thing is certain: Lady Gaga has your attention.