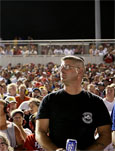 Another reason to like Jay Leno...
The Tonight Show's host, Jay Leno, accompanied members of the Supper Club to experience an evening of timeless luxury and art. The car fanatic arrived at the Heritage Classics Motorcar Company in Los Angeles in his very own vintage Model T Roadster to view classic cars alongside watches from Gergé's most recent collection. After viewing vintage Jaguar E Types and19050's Porsche Speedsters he made his way to the Gergé watches that were on display.
Swiss watchmaker, Gergé, presented timepieces from the Special Edition Giovanna collection, alongside an ultra-sleek Mercedes SLS AMG. Leno, a self-proclaimed car enthusiast, sported the Giovanna Type M-1 timepiece by Gergé and admired its design elements that project the power and intensity of a high-performance automobile.
<< Back