By Emyr Thomas Jan. 4th, 2012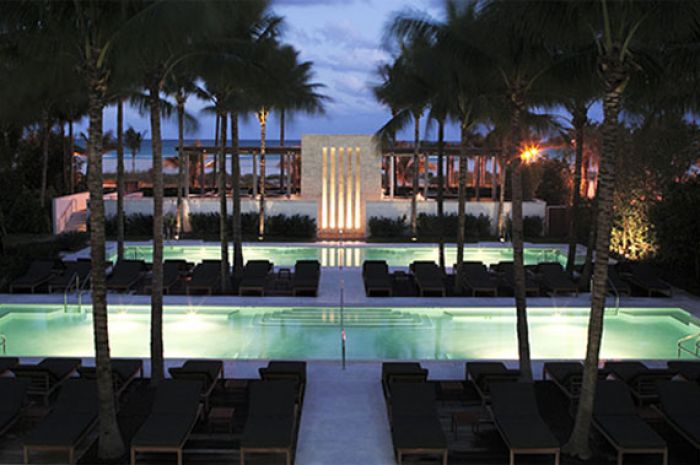 Photo Courtesy of The Setai
South Beach is Miami's Art Deco jewel, a place full of energy and excitement, with a vibrant beating heart.
The Setai
Hotel's Zen-like tranquility and Asian elegance offers a welcome contrast to both the frantic pace and the plethora of uber-designed, modern boutique hotels that dominate the skyline.

From the main entrance on Collins Avenue, you can see the hotel's eight-story classic Art Deco building; but inside, you have one of the city's most beautifully designed spaces, with a palpable serenity and soothing atmosphere. Heavy Asian design influences are offset by brightly colored accents, including carefully placed oranges (seamlessly replaced by candles at sundown) and stunning centerpiece displays of 500 orange roses.

The Art Deco building contains 85 studio suites, averaging a capacious 600 square feet. Each come with flat-screen televisions, iPod docks, complimentary espresso machines, Asprey bath products and exquisite Duxiana beds. The adjacent 40-story tower contains 45 one-, two- and three-bedroom suites, ranging from 900 to 3,500 square feet, each with floor-to-ceiling windows, full kitchens, Jacuzzi bathtubs and balconies offering panoramic views across the ocean or of downtown Miami in all its glory. There is also a 10,000-square-foot penthouse suite with spectacular balconies, private lap pool, Jacuzzi and glorious views of the Miami skyline.



The three swimming pools are the hotel's focal point, each heated to a different temperature, gradually becoming warmer as you get closer to the beach. The poolside assistants are wonderfully attentive, with an array of cooling products replenished unobtrusively throughout the day.



The day beds offer an ideal place from which to enjoy an afternoon cocktail (the frozen bellini was a particular highlight) but lunch is best enjoyed at the oceanfront restaurant, the Pool & Beach Bar; one of the few South Beach hotels where you can dine with views of the ocean. Service is exemplary throughout: warm, friendly and attentive with eastern and western hospitality blending seamlessly, and complimentary wifi throughout the hotel, as well as poolside, was particularly welcome.



The spa at The Setai, which continues with the Asian influence in both design and treatments, is intimate, calming and thoroughly relaxing. Each spa suite has ocean and pool views, a private bath and steam room, and can accommodate two people to enjoy treatments at the same time. Our Balinese massage was truly delightful and a perfect way to unwind after a long day soaking up the sun.

With its beautiful design, impeccable service levels and endearing tranquility, The Setai is undoubtedly one of Miami's best hotels, with the added benefit of having South Beach's decadence on its doorstep. Visit Setai.com to learn more.
Emyr Thomas
Emyr Thomas is the founder and director of Bon Vivant, a concierge service and luxury travel company with an emphasis on providing great personal service. We specialise in every travel, leisure and lifestyle need that you don't have the time, inclination or expertise to do yourself so you can maximise your free time. Based in London with global coverage. Please visit our website at www.bonviva...(Read More)