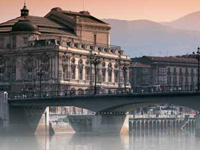 Things to do in Bilbao
Bilbao is a fabulous city for travellers wanting to take in the sights, especially during the summer months between May and September when the weather is warm - perfect for spending days outdoors. From cultural and historic attractions to just good old-fashioned fine dining and entertainment, Bilbao has plenty to offer.
Start at the world-famous Guggenheim Museum, if only to marvel at the exterior of the building''s innovative architecture with its titanium twists and curves. Art lovers shoulnd''t miss the Museo de Bellas Artes, which boasts more than 6,000 works dating back to the 12th century while the Basque Museum focuses on the history and archaeology of the region. For the perfect holiday snaps, climb the Mallona stairs from the Plaza Unamuno to Parque Etxebarria for breathtaking views over the city.
History buffs should check out the Cathedral de Santiago, the oldest building in Bilbao, or the beautiful Gothic Basílica de Begoña which dates back to the early 1600s and whose spires can be seen throughout the city. A trip to Bilbao wouldn''t be complete without visiting Pamplona, the scene of the famous running of the bulls which takes place in July each year and the nearby resort of San Sebastian makes the perfect summer beach getaway. Travellers in Bilbao who plan on doing lots of sightseeing should look into buying the Bilbao Tourist Card, which is available from all tourist offices around Bilbao and can be used for discounts on public transportation fares, admissions for museums , shows, shops and restaurants.