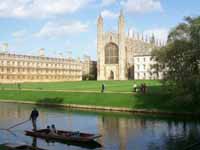 Getting Around Cambridge
Transport in Cambridge is simple and easy, provided you don''t drive a car. The best way to get around Cambridge is by bicycle. Bicycles can be hired at any number of the cycle hire shops in central Cambridge. The town is cycle friendly with over 80 miles (130km) of dedicated cycle routes, lanes and roads. Maps of the cycle routes can be acquired at the Cambridge visitor''s information centre or on the Cambridge City Council''s Website. Park and ride options are available along most major routes into Cambridge. There are also a number of local buses ready to transport visitors around the city.
Bus routes go in and around town as well as from central Cambridge to the outlying towns and village. The city sightseeing hop-on-hop-off bus is a great way to take in all the attractions on your way around town. Free transportation is available during business hours from Monday to Saturday on the city centre shuttle bus. The free shuttle can be used from Market Square, Corpus Christi College, Fair Street, Jesus Lane and Trinity Street. Buses tend to leave each station at 15 minute intervals.
Further transport options for visitors to Cambridge include taxis and cars, however these are not recommended. There are a number of taxi companies in Cambridge and rates per kilometre are dictated by the city council. Taxi ranks are located on St Andrew''s Street and on Drummer Street during the day while night-time taxi can be found on Sidney Street and at Market Square. Travelling around Cambridge by taxi or car is made cumbersome, and expensive, by the multitude of one-way streets, no car roads and cycle-only areas in the city.
In an effort to provide a relaxing, car-free atmosphere around the city, the Cambridge City Council has declared a number of pedestrian zones. Visitors to Cambridge can explore the city without having to worry about traffic, parking or the noise and air pollution created by cars. The pedestrian zones effectively limit car and cycle access to the centre of Cambridge during business hours.
Two novel and exciting ways to get around Cambridge are punting and ''shopmobility''. Shopmobility is an initiative instituted by a number of shopping centres giving shoppers access to wheelchairs, scooters and Segways. The shopmobility programme is in effect at the Bus Station on Drummer Street, the Grand Arcade and the Grafton Centre. Punting is an age-old tradition in Cambridge and offers visitors the perfect way to view the historical and scenic colleges around the city. Visitors can hire a punt and chauffer from the Quayside, Silver Street or the back of Trinity College.