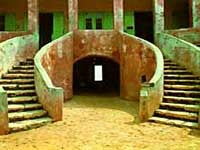 Things to do in Dakar
A bustling city full of life, colour and commerce, Dakar is the cultural, political and economic capital of Senegal. There is much to see and do in Dakar for tourists, and a stop in Dakar is a must for anyone on holiday in Senegal.
The most famous attraction in Dakar is the controversial African Renaissance Monument, a massive sculpture meant to represent Africa''s emergence from slavery and colonialism. There is much disagreement about the sentiment of the statue, which was made by North Korea and not in Africa. Nevertheless, the statue is an amazing site, as it is taller than the Statue of Liberty in New York.
There are some beautiful buildings worth seeing in Dakar as well, including the 18th-century Maison des Esclaves, city''s cathedral and grand mosque. Another fascinating site is the ruined colonial architecture on Goree Island, including the landmark House of Slaves Museum.
Another great way to enjoy an afternoon in Dakar is by browsing the busy markets or having a picnic in one of the beautiful parks. Hann Park and Zoo is a great place to take kids in Dakar. Lake Retba is also an interesting sight, as you can watch the traditional salt harvesters at work.