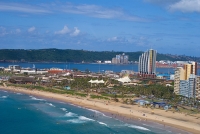 Getting Around Durban
Durban''s public transport system can be described as ad hoc at best. The city''s bus network, which services the city centre and surrounding suburbs, has fallen dramatically in quality in the last several years, resulting in an erratic schedule that may leave passengers stranded.
The mode of transportation used by most working-class Durbanites is the minibus taxi (or kombie), which are independently-operated vans that stop anywhere along their routes. These taxis are cheap and widespread but often cramped, and can be dangerous as the drivers largely ignore the rules of the road. Minibus taxis should only be used during the day and on busy routes, and travellers should not enter an empty minibus.
Durban has several reputable metered taxi companies, but these can be expensive for long journeys. It is always advisable to use a branded cab such as Zippy, Mozzie, or Eagle. You can negotiate a price upfront, or use the meter. Most cabs do not take any form of credit card, and tipping is customary.
There are many places to hire cars in Durban, however visitors should avoid driving in the central business district, as traffic during the day can be very congested and the streets considered unsafe at night. Doors should always be locked while driving as hijacking is a serious concern in South Africa, and purses and other valuables should not be left visible on seats.