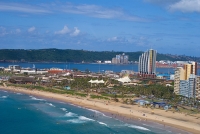 Durban Nightlife
Durban is primarily a holiday town, with its mind set firmly on the beach. That doesn''t mean the fun stops when the sun goes down, but it lends Durban nightlife a relaxed atmosphere more focused on fun than glamour.
A good place to start is at a beach bar on Golden Mile, perhaps with a local beer at the neon-lit Joe Cools or gigantic strawberry daiquiri from the more African-themed Moyo at uShaka Marine World. Restaurants, bars, and pubs tend to be clustered in certain streets and neighbourhoods, so there are always alternatives if you aren''t satisfied.
The most famous nightlife district in Durban is Florida Road in Morningside, which has a busy atmosphere every night of the week. It has a wide selection of restaurants, bars, pubs, and nightclubs to choose from, but due to municipal noise restrictions you won''t find live music. The Davenport District of Glenwood is another cluster, offering a neighbourhood feel with small, independent restaurants and bars. Both areas have limited parking on the street, with car guards standing by for a tip of two to five rand. A bit further north, Umhlanga Rocks has its own main street in Chartwell Drive, with a pedestrian-friendly strip of restaurants, pubs, and bars spilling out onto the pavement.
Durban has a burgeoning live music community, with great local bands in every genre, from rock and jazz to hip hop and electronica. Burn Nightclub in Stamfordhill is the destination for hard rock enthusiasts, whereas the Jazzy Rainbow offers a blend of jazz, hip hop, and live poetry. City Hall hosts concerts by the KwaZulu-Natal Philharmonic Orchestra every Thursday night in season, and bigger concerts are held at the International Convention Centre.
For clubbers, Durban has quite a few mainstream house venues, including Eighties Nightclub, The Clapham Grand, and Club Sasha. For alternative dance music, Origin hosts international deejays and packed parties every Friday and Saturday night. The Lounge in Stamfordhill is Durban''s only major gay nightclub, and Cool Runnings offers a reggae-and-rasta poolhall with drum circles on Thursday nights.
Late-night entertainment doesn''t have as many options in Durban, but the watering-hole for the city''s creative crowd is Hai.bo, with its massive cocktail menu and artistic atmosphere.
Most Durban clubs and bars will accept credit cards (except American Express). Travellers should take extra care when going home late at night, as drunk driving is a serious problem and hijackings are common in some areas. For comprehensive event listings, look in the Sunday Tribune''s Sunday Mag Diary section.