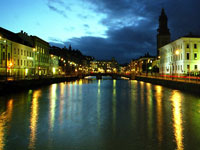 Gothenburg Overview
The second-largest city in Sweden, and Scandinavia's most important port, Gothenburg (or ) is situated on the west coast of the country, at the outlet of the Göta Canal which links Gothenburg to the Baltic Sea, and indirectly to the country's capital, Stockholm.
Positioned on the Göta River, Gothenburg, or Göteborg, was founded in 1621 by King Gustav II Adolf to secure access to the Atlantic, but the city was settled and planned by Dutch merchants who used it as their base for trade. The numerous canals and gabled houses are evidence of this early influence. Shipping and commerce have always been important industries in Gothenburg and the port is the arrival point of hundreds of visitors a year.
Gothenburg is also a stunningly beautiful city with its waterside location, green open spaces and fine architecture, and boasts a wide selection of cultural establishments with no shortage of theatres and museums. The main street, Kungsportavenyn, known simply as Avenyn, is a hive of restaurants, bars, cafes, hotels and shops and is at the centre of life in the city. Gothenburg is also well-known as an event city, hosting major international events and artists, yet despite its sophisticated feel it still maintains a small town charm with its own special character, augmented by the large student population of the University of Gothenburg. In many people's opinion, Gothenburg is more beautiful and entertaining than Stockholm, and also provides a better understanding of the people and the Swedish way of life.