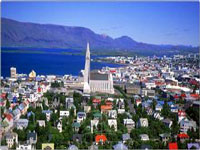 Best Restaurants in Reykjavik
Although the national diet is quickly diversifying, fish and lamb are still consumed in great quantities - and, reportedly, it can be quite hard always to find a vegetarian option on Iceland''s restaurant menus. Despite this, however, Reykjavik''s restaurant scene is exciting and cosmopolitan, as restaurateurs rush to embrace fusion cooking, and attempt to offer fresh interpretations of international dishes using local ingredients.
Traditional fare, available everywhere - but probably only for the more gastronomically adventurous - includes (dried fish-meat, eaten with butter); (singed sheep''s head); (sausage made from blood and offal, like black pudding); (pickled ram''s testicles); and (putrefied shark-meat). There is also, controversially for some, the option of eating whale-meat while in Iceland - and if you really want to push the boat out, you can get it with some grated puffin on the side.
Those with tamer appetites will be relieved to know that a staple of the Icelandic diet is the - a good, old-fashioned hot dog, served with fried onions, ketchup and mustard.