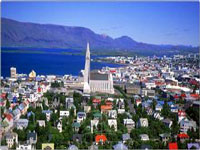 Things to do in Reykjavik
Although a beautiful, cosmopolitan, vibrant and charming city, many of Iceland''s best tourist attractions are actually located outside of its capital Reykjavik. However, luckily for visitors, Iceland is a small country - and none of the tourist attractions mentioned here require a significant amount of travelling to get to.
As far as attractions in Reykjavik are concerned, don''t miss the Botanical Gardens, which are full of interesting indigenous plants and trees; the Einar Jónsson Museum, displaying works by Iceland''s greatest sculptor; Hallgrimskirkja, one of the weirdest, most grandiose churches on the planet; and, to satisfy your Viking curiosity, the National Museum, Saga Museum and the Reykjavik City Museum (which features live actors and historical renactments).
Outside of Reykjavik, however - as one enters Iceland''s remarkable hinterland - is where the real tourist gems are found. Be sure to check out the Blue Lagoon, a man-made geothermal spring and spa; Geysir, the world''s original hot spring; the truly transcendent Gullfoss Falls; Thingvellir National Park, with its incredible hiking trails; and Jökulsárlón, a glacial lagoon full of eerie, luminous-blue ice bergs.
No matter what you decide you to see and do in the ''Land of Fire and Ice'', one thing is for sure: don''t forget to take a camera along with you, as Iceland is a country uniquely full of sights that beggar belief.