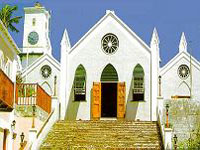 St George's Town Overview
St George's was Bermuda's original settlement and one-time capital, until 1815. It is situated at the east end of the country and provides a pleasant and relaxed day's sightseeing. There is a slide show on the Parish, which may be of interest to visitors. A walking tour is a good way to explore the museums and quaint shops and one can meet the Town Crier along the way whilst stopping here and there to sample the fare at the charming restaurants.
The hub of town life is King's Square, featuring stocks, a pillory and whipping-post where criminals were punished in days of yore. The Town Crier appears here on occasion, in traditional costume, to re-enact scenes such as committing the town drunk to the stocks and securing the town gossip on the Ordnance Island ducking stool. The Town Hall fronts the square, and behind it is one of Bermuda's oldest buildings, the State House, dating from 1619. Located close to this is an art gallery and several museums.
The town is a delightful one in which to walk around. It has many narrow lanes leading away from the harbour, which were originally the footpaths to the houses. The dwellings are picturesque with their well-maintained gardens coloured by banana and paw-paw trees. There are horse-drawn buggy rides as a means of transport and a bus service runs to locations of interest such as Clearwater Beach, St David's Island and Fort St Catherine.