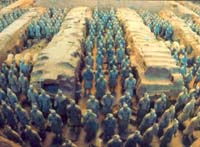 Xi'an Overview
In ancient times the city of Xi'an was a major crossroads on the trading routes from eastern China to central Asia, and the beginning point of the famed Silk Road; in recent years this 3,100 year old city that was once regarded to be on a par with Rome and Constantinople, has come back into its own as one of China's major tourist attractions.
In 1974, on the city's eastern outskirts, archaeologists stumbled across a treasure trove: an army of terracotta warrior figurines in battle formation standing in underground vaults. Hailed as the greatest archaeological find of the 20th century, the Terracotta Warriors of Xi'an have brought visitors from around the world flocking to the city to soak up its historical and cultural heritage, and perhaps embark on an adventure tour along the ancient silk caravan route.
Xi'an, in ancient times known as Chang'an, is situated in central China in the southern part of Guan Zhong Plain in Shaanxi province, with the Qinling Mountains to the north and the Weihe River to the south.
Besides the terracotta warriors, the city has a great many historical relics of interest including museums and temples, having been the capital city of China through 12 dynasties during its thousands of years of development. The city wall is the largest in the world, and the Forest of Steles, with its collection of more than 3,000 ancient stone tablets, is both the largest and oldest in China.