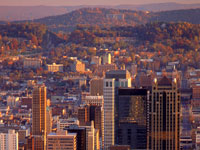 Birmingham Overview
Birmingham is Alabama's largest city, with nearly one million people living in the metropolitan area. Although it is a world-renowned financial and medical centre, its sophistication has not come at the expense of its Southern charm. The foothills of the Appalachian Mountains provide the backdrop for its tall buildings, cafés still specialise in country-fried steak and butter beans, and its history as a centre of segregation has been transformed into a future that celebrates African American heritage. Because it has retained a true Southern distinctiveness, it has been called the last major Southern city in America.
The city of Birmingham is rich in diverse architecture, with sleek office buildings as well as historic homes and landmark churches. Tree-lined streets, parks, the botanical gardens and the Birmingham Green, and a landscaped promenade running through the city mean visitors never feel far from nature. Trendy neighbourhoods have come alive in Birmingham, complete with antique shops, coffeehouses, bars, restaurants and nightclubs. Especially popular areas include the Lakeview District, which was originally a resort area at the turn of the 20th century, and is now full of stylish entertainment options; and the Five Points South District, an eclectic area of restored historic buildings now popular with local university students.
Most significant, perhaps, is the Civil Rights District, a six-block section of the city in which major civil rights events took place. Here visitors can tour the 16th Street Baptist Church, the site of a bombing that killed four African American girls. The church was rebuilt and today continues to serve the community as an open-door institution. Also worth a visit is the Birmingham Civil Rights Institute, which tells the story of African-American life and the struggle for equality through arresting multimedia exhibitions.