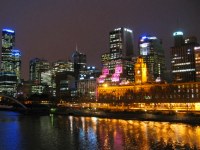 Melbourne Nightlife
Melbourne has a vibrant nightlife encompassing cocktail lounges, pubs, underground dance clubs and international theatre productions. There is no distinct party area, with various venues and attractions dispersed throughout the city.
The Young & Jackson pub is famous for its central location and renowned nude portrait of , while Portland Hotel brews its own selection of beers. In the west-end, Mitre Tavern is one of the oldest pubs in the city. Meyers Place bar is unsigned but very popular, as is the Kitten Club, a favoured Melbourne cocktail lounge. Gin Palace offers celebrated Martini tasting to patrons.
Ffour combines club, cocktail bar and multi-media gallery, and the Melbourne Supper Club is also a trendy spot. Other popular venues include the Croft Institute, Misty Place and Double O. Shows like and can be enjoyed at places such as the Princess and Regent theatres. The Art Centre hosts orchestral music, the EQ Café bar and the Alfred Brash Sound House, while the Looney Bin has a bar and comedy cabaret.