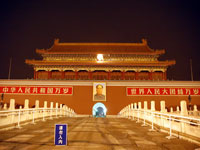 Getting Around Beijing
The subway is a great way to get around in Beijing. Though it can be very crowded at peak commuter hours, the service is comprehensive and efficient. Line 1 and Line 5 can be used to access many tourist attractions. The subway shuts down at midnight and starts again at 5pm. Be aware that if you are carrying luggage you will need to go through x-rays. You can buy a prepaid card (Yîkâtông) that allows you to travel on subways and buses. The fare is the same for the subway, but reduced for buses. The Beijing bus system is comprehensive, but confusing for foreigners as most of the signs are in Mandarin. Most buses operate from 5am to 11pm.
There are many taxis available, both official and unofficial. They charge a base fee of around 10 yuan, and there is a surcharge of one yuan on each trip. Tourists will generally pay more than locals, but if you feel you''ve been cheated, ask for a receipt to make a complaint with. All official taxis have license plates that begin with the letter B. It is a good idea to have your destination written in Mandarin to show the driver, as most do not speak English.
Driving in Beijing is a complicated and sometimes frightening process, with few English signs and non-stop traffic jams in the city. Visitors are not permitted to drive in Beijing without a Chinese driver''s license, which you can get at the airport or transportation police stations.
Cycling is also a good alternative with numerous bicycle rentals around the city, and well-defined bike lanes, bike parks and the company of millions of other cyclists, especially at rush hour. It may look intimidating, but can be the best way to get around for the more adventurous traveller. For the Olympics in 2008, 50,000 brand new bicycles were made available and can now be rented at outlets close to subway stations, commercial districts, Olympic venues, hotels and office buildings.