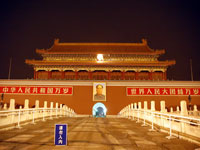 Beijing Overview
The capital of the People's Republic of China, Beijing (formerly Peking) is a very modern and exceedingly busy city (nearly 14 million people call it home) with high-rise buildings, international hotels and sprawling suburbs. The city is abuzz and bristling with cranes on the skyline as construction projects give rise to new skyscrapers and modernisation proceeds apace. However, Beijing also encompasses numerous attractions of cultural and historical interest, of which some, such as the Great Wall of China, the former Imperial Palace (known as the Forbidden City), the Temple of Heaven, the Summer Palace and the remains of Peking Man at Zhoukoudian, are UNESCO-endorsed World Cultural Heritage Sites. Chinese history and culture fascinates Western visitors, and Beijing is a great place to start exploring it. The city abounds in palaces, temples, mansions, gardens and tombs that epitomise classical Chinese architecture. It also has roughly 120 museums and more than 100 public gardens.
The first port of call for most visitors is the Forbidden City, which lies at the heart of Beijing with the rest of the city radiating out from it in a grid pattern. For five centuries this massive palace complex with 9,999 rooms functioned as the administrative centre of the country and home to a succession of emperors, who lived in luxurious isolation, surrounded by courtiers and retainers. The Palace overlooks the infamous Tiananmen Square, site of so much Chinese history with political drama and dissent.
In preparing to host what they hoped were 'the best games in Olympic history', Beijing undertook many major renovations in 2008. Public transport was improved, environmental issues addressed and a general clean up of the city was ordered. The Chinese saw the games highlight its economic rise and emergence as a world power. Some of the infrastructure, such as the iconic 'Birds Nest' stadium, is still in use for different purposes, and contributes to Beijing's unique landscape.