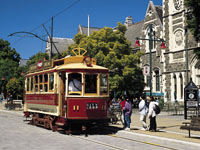 Christchurch Overview
The largest city on South Island, Christchurch is the most English of New Zealand's cities, named after an Oxford college. The atmosphere is reminiscent of an English university town, with school boys in striped blazers and punting on the River Avon, a grand Anglican cathedral dominating the central square, little stone-walled bridges, elegant Victorian architecture and numerous parks and exquisite gardens.
Dubbed the 'Garden City', it is the lively capital of the Canterbury region, priding itself on its green areas, arts and history as well as its sports. The surrounds offer beach suburbs, protected bays and dolphin swimming, green valleys and snow-capped mountain ranges for skiing, hiking, mountain biking and climbing. The city itself has a relaxed and cosmopolitan centre with historic trams rattling along the streets of the bustling downtown area, a lively pub and restaurant scene, theatres, street buskers, museums and art galleries.
Christchurch was heavily damaged by a major earthquake in early 2011, and some of the damage is still evident, with several major tourist attractions closed for repairs, though most of the city is functioning normally. Christchurch is the gateway to the South Island and offers the visitor an appealing mixture of historic charm and vibrant city life, a pleasing balance between urban pursuits and outdoor activities. With the least rainfall of any of the other cities and plenty of sunshine it is a perfect base for a Canterbury experience.