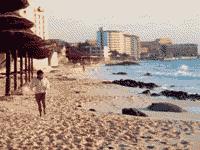 Getting Around Cancun
Getting around in Cancun is relatively easy, as there are plenty of transportation options aimed specifically at tourists. Driving in Cancun is often more stress than it is worth, especially during Spring Break when local police are zealous about pulling over tourists.
Buses are cheap and frequent in popular areas, including along the Bulevar Kukulkán. Buses in Cancun are convenient and many drivers speak English, however they are usually hot and crowded.
Taxis are also plentiful in Cancun, however they tend to be expensive. While most fares within downtown Cancun are less than MXN20, fares in the Hotel Zone are higher. Cab drivers have set rates for many popular destinations. Taxis are the only form of late-night transportation, as walking at night is not considered safe.