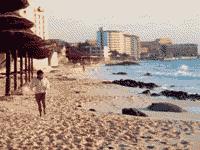 Cancun Shopping
Shopping in Cancun is a serious sport. Air-conditioned shopping malls offer duty-free deals on everything from watches and jewellery to alcohol and tobacco products; while souvenir shops peddle Señor Frog''s t-shirts, beach wear and tequila; and outdoor markets offer a selection of handicrafts and locally-made products.
The biggest concentration of shopping malls in Cancun is along Bulevar Kukulkán in the Hotel Zone. Kukulkán Plaza is a huge mall with more than 300 stores as well as a bowling alley, restaurants, and small casino. The newly-renovated Forum by the Sea offers many name-brand shops like Diesel, Harley-Davidson, and Hard Rock Cafe. La Isla Shopping Village is by far the most attractive mall in Cancun however, with open-air walkways of shops and restaurants criss-crossing canals that offer boat rides, and an interactive aquarium; along with a selection of restaurants and bars, the mall has a movie theatre and arcade. The best duty-free shopping in Cancun is generally accepted to be at Ultrafemme on Avenida Tulum, an enormous shop offering tax-free deals on many luxury goods.
Most souvenirs from Cancun run to the tacky t-shirt variety, however it is possible to find handmade items like silver jewellery, leathergoods and woven blankets at the outdoor market at Mercado 28, or Coral Negro on Bulevar Kukulkán.
Most shops in Cancun are open late, until 10 or 11pm during high season. Credit cards are widely accepted in shops, however bargaining is only practised in markets. It is recommended to only use ATMs located in banks or hotels, as banking fees are often larger at private ATMs and identity theft is common.