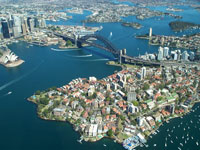 Sydney Kids Attractions
Boasting a plethora of outdoor activities and world-class attractions, Sydney is a fantastic place for children on holiday and parents will have a hard time choosing one from the huge list of activities and sights that are geared towards children.
While you''re down under, might as well take the kids to see all that is Australian at the Australian Reptile Park, including gigantic crocodiles, indigenous spiders, snakes, possums, kangaroos and of course, Tasmanian devils. Children will love exploring the park and discovering the exotic and indigenous animals.
The Australian Museum features everything kids love - fossils, dinosaurs, animals and plenty of other fascinating exhibits to look at. The Australian museum also features ''Kidspace'', especially for the little ones. This mini-museum will help expand their minds and show them about the history of nature in a fun and colourful way.
Calmsley Hill City Farm is a working farm is a must for parents with little ones. Kids will be able to watch cows being milked and the daily goings on of a farm, as well as getting to play and pet the animals. Kids can enjoy shows such as the sheep shearing show, working dog show, animal feeds and even tractor rides.
Children who visit the Featherdale Wildlife Park will be able to interact with and observe koalas, wallabies and emus up close and personal. Kids can have their photograph taken with one of these fuzzy animals and petting the koalas is also allowed here, something you won''t find anywhere else in New South Wales.