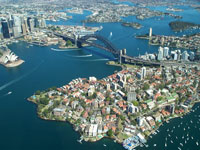 Best Restaurants in Sydney
A multi-cultural city like Sydney has a wide variety of food with influences from around the world, but particularly from Asia. Along with modern Australian, or ''Mod Oz'', cuisine, which combines fresh ingredients with a creative blend of European and Asian styles, restaurants serve almost any type of fare imaginable, from Tibetan to African, from Russian to American. Some areas or streets are dedicated to one type of food, while other areas in the city offer a variety of styles. The range also varies from award-winning, fine dining restaurants, situated mainly around the harbour or attached to five-star hotels, to international fast food takeaways such as McDonalds or Pizza Hut. Fresh seafood is in abundance, and steak is a staple that can be found in a selection of steakhouse chain restaurants scattered around the city.
The main dining areas in the centre of Sydney are The Rocks, Circular Quay, Darling Harbour and Chinatown. Prices vary according to location, with harbour facing establishments charging more for their views. Some restaurants are BYO, which means they are unlicensed, but diners can bring their own wine; sometimes a small corkage fee will be charged. All restaurants are non-smoking.
For a more comprehensive list of restaurants in Sydney see or