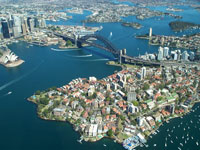 Best Restaurants in Sydney
A multi-cultural city like Sydney has a wide variety of food with influences from around the world, but particularly from Asia. Along with modern Australian, or ''Mod Oz'', cuisine, which combines fresh ingredients with a creative blend of European and Asian styles, restaurants serve almost any type of fare imaginable, from Tibetan to African, from Russian to American. Some areas or streets are dedicated to one type of food, while other areas in the city offer a variety of styles. The range also varies from award-winning, fine dining restaurants, situated mainly around the harbour or attached to five-star hotels, to international fast food takeaways such as McDonalds or Pizza Hut. Fresh seafood is in abundance, and steak is a staple that can be found in a selection of steakhouse chain restaurants scattered around the city.
The main dining areas in the centre of Sydney are The Rocks, Circular Quay, Darling Harbour and Chinatown. Prices vary according to location, with harbour facing establishments charging more for their views. Some restaurants are BYO, which means they are unlicensed, but diners can bring their own wine; sometimes a small corkage fee will be charged. All restaurants are non-smoking.
For a more comprehensive list of restaurants in Sydney see or
Bodega
This busy tapas bar offers a selection of soul-satisfying traditional Spanish and South American foods in portions designed for sharing. Bodega is open Thursday and Friday for lunch and Monday to Saturday for dinner. Arrive early to get a seat at the big communal table that dominates the interior, as they don't accept bookings and fill up quickly.




CUISINE:

Spanish


Address:

216 Commonwealth Street


Website:

www.bodegatapas.com
Ashiana
Situated in the Northern Beach suburb of Manly, Ashiana is one of the best cheap Indian restaurants in Sydney and is extremely popular for its friendly service, award-winning traditional spicy cooking, and local ambience. Portions are large and filling and covered in sauce, which is best soaked up with quantities of tandoori breads. The menu offers tandoori specialities as well as chicken, lamb, beef, seafood, pork and vegetarian favourites, such as butter chicken, Malia Kofta, Roganjosh, beef korma, and fish curry. Banquets are also good value offering a choice of entr?©e and main course, which are accompanied by rice and tandoori bread and followed by tea or coffee. Reservations recommended. Dinner daily.




CUISINE:

Indian


Address:

2 Sydney Rd, Manly


Website:

www.ashianaindianrestaurant.com.au
Icebergs
This trendy restaurant with stylish d?©cor and a fabulous menu to boot is situated above the Icebergs swimming pool on Bondi beach and provides some of the most breathtaking views over the Pacific Ocean. Dishes such as wonderful seafood risottos, Finders Island salt crusted suckling lamb and delicious char-grilled steaks make this restaurant a firm favourite with locals and tourists alike. Reservations recommended. Open daily for lunch and dinner. Closed Mondays.




CUISINE:

Seafood


STYLE:

Trendy


Address:

One Notts Avenue, Bondi Beach


Website:

www.idrb.com/icebergs/index2.htm
Bistrode
This popular eatery owned by chef couple Jane and Jeremy Strode is a must for all food lovers. Jane trained in Sydney's renowned Rockpool, while Jeremy gained invaluable experience at the three Michelin starred Waterside Inn in England. Their combined experience is enough to tempt even the most sceptical into their doors. Serving delectable dishes such as smoked eel, celeriac and celery or the Scotch fillet steak served with a bone marrow and red wine sauce, diners can end off with the William Pear sorbet with passionfruit sauce and shortbread or the Honey tart served with peanut butter ice cream. Reservations recommended. Open for dinner from 6pm Tuesday to Saturday and for lunch on Friday from 12pm.




CUISINE:

International


STYLE:

Trendy


Address:

478 Bourke Street, Surry Hills


Website:

www.bistrode.com
Bills
This sunny corner caf?© has earned Sydney icon status for its outstanding breakfasts, with signature dishes including ricotta hotcakes with bananas and honeycomb butter, sweet corn fritters with roast tomato, bacon and spinach, and the best scrambled eggs in the city. The friendly communal table, nouveau caf?©-style d?©cor, professional service and consistently good food make Bills immensely popular. Open for lunch and breakfast. Closed Sunday. Reservations are not accepted.




CUISINE:

Local


Address:

433 Liverpool Street, Darlinghurst
Salt
This sleek, state of the art restaurant in Sydney's trendiest suburb is the 'in' place for the fashion crowd to be seen. Executive chef Luke Mangan has taken Salt to the top of the Mod Oz movement with food that is innovative in its flavour combinations. The menu changes regularly and includes vegetarian meals as well as dishes like quail's egg encrusted with celery salt and sugar, and baked guinea fowl breast with parmesan and artichoke puree. Martinis are the drink of choice. Reservations essential. Dinner Tuesday to Saturday as well as lunch on Fridays.




CUISINE:

Modern Eclectic


Address:

Kirketon Hotel, 229 Darlinghurst Road, Darlinghurst
Bayswater Brasserie
The Bayz, as it is affectionately called, has been serving sumptuous dishes influenced by flavours of Asia and the Mediterranean, first class seafood and cocktails for over 10 years. The menu changes regularly and a blackboard shows the current specials. A central oyster bar has added a new dimension to the specialities list, and also offers a selection of seasonal food from shellfish, foie gras, and cheeses that are a fabulous accompaniment to a glass of chilled wine or champagne. Reservations are recommended. Dinner Monday to Saturday as well as lunch on Fridays.




CUISINE:

Modern Eclectic


Address:

32 Bayswater Road, Kings Cross


Website:

www.bayswaterbrasserie.com.au
Chinta Ria ¬? Temple of Love
Chinta Ria's buzzing atmosphere is presided over by a giant smiling Buddha in the centre of the restaurant and crowds flock to sample the delicious array of hawker-style Malaysian cuisine amid a fun and funky ambience. Flavours are intense and dishes include Laksa (Malaysian curry), hot and sour broth, and chilli prawns. A selection of dishes to share is the best way to sample more of the delicious food - the more people the better. Reservations are for lunch only so arrive early for dinner or be prepared for a lengthy wait. Open for lunch and dinner daily.




CUISINE:

Oriental


Address:

The Roof Terrace, Cockle Bay Wharf, 201 Sussex Street, Darling


Website:

www.chintaria.com
Buon Ricordo
Rated as the top Italian restaurant in Sydney, Buon Ricordo's reputation is due in part to its jovial owner, host and chef, Armando Percuoco who creates innovative dishes based on Neapolitan and Tuscan styles of cooking. The ambience is akin to a private Italian home complemented by a genuine warm welcome and professional service. The signature dish of truffled egg fettuccine is one of the city's best pasta dishes, and the warmed figs with Gorgonzola and prosciutto is heavenly. Reservations essential. Open Tuesday to Saturday for dinner, Friday and Saturday for lunch. Closed Sunday and Monday.




CUISINE:

Italian


Address:

108 Boundary Street, Paddington
Tetsuya's
Sydney's most famous chef is the internationally acclaimed Tetsuya Wakuda - a master at blending Western techniques with Japanese flavours in a unique way. The dining room is serene and unobtrusively stylish with views onto a Japanese garden and waterfall, and the changing menu offers specialities such as scallop sashimi with duck foie gras, tartare of tuna with olive oil and wasabi jelly, and marinated roast breast of duck with coffee. Everybody who is anybody wants to eat here and reservations are essential up to four weeks in advance. Open Tuesday to Saturday for dinner, and Saturday for lunch. Closed Sunday and Monday.




CUISINE:

Japanese


STYLE:

Trendy


Address:

529 Kent Street (CBD)


Website:

www.tetsuyas.com
Rockpool
Rockpool began as a fine dining restaurant serving top-class Australian produce with an Asian influence, and today chefs Perry and Danis create original dishes that combine excellence, especially when it comes to seafood, with Thai, Chinese, Middle Eastern and Mediterranean flavours. The tea-smoked duck is highly recommended! The d?©cor is glamorously modern with glass and chrome, and the busy kitchen hung with copper pots and pans is very much at the centre of the action. Dinner Tuesday to Saturday. Reservations essential.




CUISINE:

Seafood


Address:

107 George Street, The Rocks


Website:

www.rockpool.com
Manta
With breathtaking views of the Sydney city skyline and Woolloomooloo wharf, diners at the stylish Manta will feel as if they are dining at a Mediterranean seaside eatery. The exquisite seafood is fresh and tantalises the taste buds in the form of grilled Atlantic scallops served with watercress, shaved fennel, orange and Mt Buffalo hazelnuts or steamed Murray cod, broccolini, shitake and oyster mushrooms with a white truffle butter and chives. Desserts here are something else - try the quince tarte tatin, pistachios and pinot noir butter ice cream. Reservations essential. Open daily for lunch and dinner.




CUISINE:

Seafood


STYLE:

Business


Address:

6 Cowper Wharf Rd, The Wharf, Woolloomooloo


Website:

www.mantarestaurant.com.au
Travel guide by (c) Globe Media Ltd. By its very nature much of the information in this travel guide is subject to change at short notice and travellers are urged to verify information on which they're relying with the relevant authorities. We cannot accept any responsibility for any loss or inconvenience to any person as a result of information contained above.