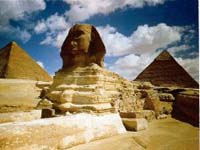 Cairo Shopping
One of the world''s most historic cities and highly popular with tourists, shopping in Cairo is fun and distinctive with its markets, stalls, souvenirs and haggling. Many visitors to this vibrant city will have a wonderful time just wandering through the souks (markets) taking in the sights, sounds and smells.
Just about everything and anything can be bought at the largest market of Khan al-Khalili in Islamic Cairo. Most visitors dare not venture into the interior as touts can pressurise shoppers and shopkeepers can be pushy. Bartering is an essential skill when in Cairo and a good rule of thumb is to halve the first asking price and start haggling from there.
Popular souvenirs include painted papyrus scrolls embellished with hieroglyphics, copper and bronze items, jewellery, carpets and leather goods from bags and belts to full-length jackets, which can be found away from the main tourist drags. The quality is normally excellent. The Wekalet al-Balah is a must for lovers of beautiful fabrics and Egyptian cotton.
Most shops are open depending on the season and shops in tourist areas generally keep longer hours. The majority of stores open at 9am and close at 7pm during the winter months, while during the summer stores open later but close for an extended lunch hour during the day. Opening hours during summer are usually 9am - 1pm and 4pm to 9pm. During Ramadan opening times can be disrupted.
Visitors are only able to claim tax refunds on purchases of more than US$1,000, which are shipped out of Egypt within three months. Travellers who wish to reclaim tax have to produce their passport at the point of purchase and request a governmental refund application form, which must be presented to the appropriate customs official at the departure point.P>