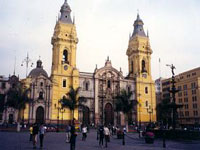 Lima Shopping
Shopping in Lima is a very rewarding experience, with a vast selection of both local and international goods on offer; alpaca wool garments are a prized souvenir from Lima. The most popular shopping areas are Miraflores and Lima Centro, and most shops are open Monday through Saturday from 9:30am to 12:30pm, and from 3pm to 8pm. There is no tourist rebate on the 18 percent sales tax charged in Peru.
Alpaca sweaters, ponchos, rugs, coats, blankets, and other popular Peru souvenirs are available from Alpaca III in Miraflores. Other handicrafts, including woven items and ceramics, can be found at markets in the main squares of Miraflores and Barranco, in the shops on Avenida Ricardo Palma, and in Centro Comercial El Suche. There''s a good selection of silver jewellery and antique stores on Avenida La Paz in Miraflores, while La Casa Azul on Alfonso Ugarte specializes in colonial furniture and religious art. Those looking for traditional Peruvian instruments like quenas or charangos will find good stores on Calle Cantuarias near Astrid y Gastón. Several will even help you find someone to teach you!
There are a number of markets and malls to browse for bargains in Lima. The Feria Artesanal (Artisans'' Market) has a great selection of local handicrafts, and Mercado Central and the Río Rímac flower market are also worth visiting. The Jockey Plaza Shopping Center in Surco and the Larco Mar mall in Miraflores offer a vast array of high-end shops, restaurants, cinemas and entertainment. Good supermarkets in Lima include Metro, in Lima Centro, and the Vivanda supermarket chain.