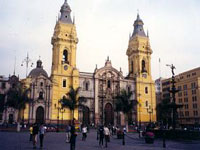 Lima Overview
Positioned halfway down the dry and dusty desert coastline of Peru, the city of Lima is hemmed in by the Pacific Ocean on the one side and the foothills of the Andes mountain range on the other. A sprawling and chaotic city, the capital of Peru is overcrowded, polluted and a noisy metropolis. The stark contrast between poverty and wealth is most visible in the miles of dusty shantytowns that stretch along the coast on either side of the city, and the glitzy apartment and office buildings of the affluent seaside suburbs.
During the days of Spanish colonial rule the city was regarded as the most important and prosperous city in Spanish America and was the finest in the region, known as 'The City of Kings'. Today the splendour may have paled, but Lima is still an animated and bustling city with an exciting mix of nationalities and styles; a city crammed with culture, a rich heritage and eight million people.
Lima dominates the country's political and commercial life and is the major gateway to the rest of the country. The city retains some of its original charm and has much to offer the visitor. Some of Peru's best museums, restaurants and nightlife are here, and the old colonial centre holds a certain elegance with its beautiful churches and convents, graceful old mansions, central plazas and classic colonial-style buildings. The outstanding art and archaeology museums provide an excellent introduction to the history and culture that visitors will come across in other parts of the country.