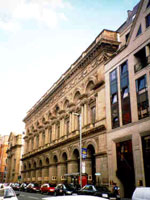 Things to do in Manchester
The city''s facelift and subsequent urban revival have invigorated it, ensuring there are always plenty of things to see and do in Manchester. Chinatown, centred around George and Faulkner streets, provides a heady array of sights, sounds, and smells, as does the ''Curry Mile'' concentration of sari shops, jewellery stores and Indian restaurants in Rusholme. For a truly modern experience, check out the slick Urbis shopping centre.
There are many historical attractions in Manchester as well. Manchester Cathedral and the town hall are both examples of beautiful Gothic architecture, and the ruins at Castlefield date back to the medieval period.
Manchester provides many incentives for culture buffs, including many theatres, libraries, art galleries, and museums. For the best view of the whole city, take a spin on the Manchester Wheel, located in the Millennium Quarter.