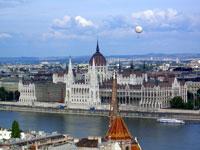 Budapest Nightlife
Nightlife options in Budapest abound, from music lounges and jazz venues to trendy bars and nightclubs. New clubs open up throughout the city all the time, particularly in the areas around IX Raday utca and VII Liszt Ferenc tér. There are a number of drink and party venues in the city with the busiest areas being districts 5, 6 and 9. There is not usually an entry fee at the door but some places will charge between EUR2 and EUR4 if there is an international DJ or live performance scheduled.
Popular Budapest bars include Becketts, an authentic Irish pub, and Crazy Café, which claims to have the longest drinks menu in Hungary. Other good venues include the Trocadero Café, for Latin music, and the Vera Jazz Café. Fat Mo''s Music Club is also a great party place, often hosting live music performances and reminiscent of a 1930s American speakeasy.
For the high rollers in Budapest, there are a number of casinos to enjoy in the luxury hotels between the Elizabeth and Chain bridges on Dunakorzó. Late night partying can also be done at a number of trendy Budapest clubs such as the Barokko Club & Lounge, Livingroom, Wigwam Rock Club and Inside. To find out more about events happening while you are in Budapest check the nightlife listings in the city''s English-language paper .