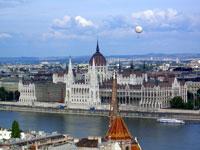 Budapest Shopping
Shopping in Budapest is fun and varied experience. Must-buys in Budapest include Hungarian folk-art souvenirs such as embroidered goods, Herend porcelain, Tokaji wine and túró cheese. The main Budapest shopping areas are in the city centre and the lanes surrounding Pest''s Váci utca. There are many trendy designer outlets to be found on Andrássy Avenue in Pest, while the Castle District and Gellért Hill are home to some great speciality, souvenir and craft shops.
Herend porcelain can be found in Zsolany, V Kigó utca 4 and Herend, I Szentháromság utca 5, while bargain hunters should head to the three-storey Nagy Vásárcsarnok (Great Market Hall) in IX Fovám tér, which is more than 100 years old. Budapest also has a chain of stores called the BAV stores. These shops are pawn shops, run by the state. The largest BAV store can be found on V Bécsi utca 1 and stocks some great gems and souveniers amoungst all the junk.
Budapest boasts a good selection of shopping malls hosting brand-name and fashion retailers; try West End City Centre and Duna Plaza in Pest for brands like Levis, Kookai and Nike. There are cheaper, high-street shops along Nagykörút (Great Boulevard) and bargains can also be found in the Budapest markets, especially the Central Market, Ecseri flea market and Hunyadi tér market.
Unless there is a national holiday, most shops are open all day during the week, and till lunch on Saturday. Large supermarkets tend to have longer opening hours and are also open on Sunday, while some outlets such as Tesco, and city centre convenience stores, are open 24 hours. VAT is included in the price of most goods; with the correct documents and receipts (reciept of purchase; seperate receipt indicating the VAT amount on the purchase; VAT reclaim form), refunds are available for purchases exceeding EUR200.