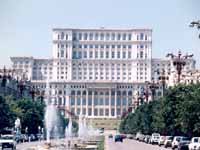 Best Restaurants in Bucharest
Restaurants in Bucharest offer visitors an array of fine dining opportunities. Romanian food is a meeting point between German, Hungarian and Ottoman cuisine. Diners in Romania should expect tart soups, Greek style moussaka, Turkish meatballs, Austrian-style schnitzel, and of course the essential glass of tuica (traditional Romanian plum brandy). Romanians have a number of popular fish dishes and many of the meat dishes are served with Mãmãligã, a cornmeal-like meal similar to polenta.
Diners in Bucharest will find that they are spoilt for choice when it comes to fine dining options. Caru cu Bere is a fun place for an afternoon beer and pub meal. La Mama is a friendly eatery with great food and reasonable prices. Those after the complete fine dining experience should definitely try Casa Doina which serves exquisitely presented traditional Romanian fare. Balthazar Restaurant and Bar specialises in Asian meals, as does Mju Restaurant. In short, dining out in Bucharest will have you coming back for seconds.