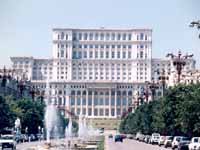 Bucharest Shopping
Bucharest Mall opened in 1999 as Romania begun emulating the shopping habits of its traditionally capitalist neighbours. Inside are over 70 high-end stores across four levels, with the usual cast of restaurants, fast food joints, cinemas and a games arcade. The largest mall in Bucharest however is Plaza Romania which has a huge range of retail stores inside its cavernous interior. The former Communist department store Unirea Shopping Center has now been transformed into a mega-mall containing several hundred small shops catering to the more middle-class shopper.
Although convenient, these two malls are hardly representative of Romanian culture; luckily there are many other options when shopping in Bucharest. For gifts and souvenirs in that vein look out for the numerous Artizanat stores around the city. Top sellers are embroidered clothing, hand painted Easter eggs, woven carpets, nesting dolls, and carved masks, among other items. Traditional Romanian goods such as costumes and handicrafts are also available in the Museum of the Romanian Shop and the Village Museum. Prices are remarkably low compared to the level of quality you get.
Other popular souvenirs to buy in Bucharest are Romanian wine, particularly those from Transylvania, anti-ageing products from Dr Ana Aslan, and Romanian Monopoly - a great hipster party gimmick. For Romanian music look no further than the branch of Carturesti book store on Strada Pictor Arthur Verona. They have an excellent collection of local CDs and DVDs, art books and great coffee to enjoy on the expansive couches.
Open-air markets are always fun, if only to see the local people shopping much as they always have. Visit Amzei Makret, open daily from sunrise to sunset, for excellent fresh fruit and artisan baked goods. The weekend flea-market at Strada Mihai Bravu is really worthwhile to pick up Communist era souvenirs like medals, army gear and various antiques always popular with the folks back home. Don''t bother bargaining as no-one speaks English.