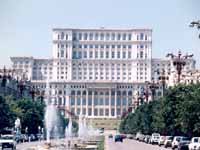 Things to do in Bucharest
Sightseeing in Bucharest offers visitors a wealth of attractions. Not only are the tree-lined boulevards and city parks incredibly picturesque, but visitors can choose from a number of sightseeing options for their time in Bucharest. The Palace of Parliament is one of the largest state buildings in the world and the National History Museum is the best museum in Romania with exhibits spanning from prehistoric times until the early twentieth century. The stunning Stavropoleos Church and Monastery houses an extensive collection of manuscripts and printed works and if you''re lucky you may even get to a chance hear the monastery choir.
Finally, the Village Museum is the perfect place to spend an afternoon, marvelling at the outdoor structures and traditionally dressed peasant workers. The city itself is always full of surprises and interesting pieces of information - once a beautiful and proud Eastern European city, Bucharest was left to ruin by the communist government and only recently has it started regaining its footing and regaining its lost lustre.