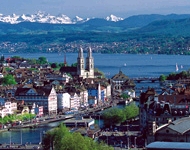 Best Restaurants in Zurich
Zurich boasts a plethora of eateries catering to just about every nationality under the sun, including, of course, restaurants with strong French, German and Italian influences. Try the delicious traditional Christmas snack, , which are hard, thin and very sweet biscuits made from flour and honey - popular in other countries too and bound to well up oodles of nostalgia in anyone who has ever tasted one. a veal stew made with mushrooms, white wine and cream is a must while in Zurich, and visitors will notice potato Rösti is a popular local dish. Other famous exports not to be missed are, of course, the decadent and delicious Swiss chocolates as well as Swiss cheeses like Emmental, Gruyère, Vacherin, and Appenzeller. Other famous Swiss culinary inventions include fondue and muesli.
The left bank and right bank areas are where all the best restaurants can be found and it is customary to make reservations in advance. For special occasions, the restaurants at the top of the Uetliberg have fantastic views. A service charge of 15% is usually included in restaurant bills and further tipping is unnecessary but leftover change is always appreciated.