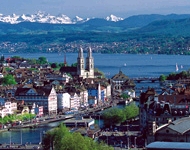 Best Restaurants in Zurich
Zurich boasts a plethora of eateries catering to just about every nationality under the sun, including, of course, restaurants with strong French, German and Italian influences. Try the delicious traditional Christmas snack, , which are hard, thin and very sweet biscuits made from flour and honey - popular in other countries too and bound to well up oodles of nostalgia in anyone who has ever tasted one. a veal stew made with mushrooms, white wine and cream is a must while in Zurich, and visitors will notice potato Rösti is a popular local dish. Other famous exports not to be missed are, of course, the decadent and delicious Swiss chocolates as well as Swiss cheeses like Emmental, Gruyère, Vacherin, and Appenzeller. Other famous Swiss culinary inventions include fondue and muesli.
The left bank and right bank areas are where all the best restaurants can be found and it is customary to make reservations in advance. For special occasions, the restaurants at the top of the Uetliberg have fantastic views. A service charge of 15% is usually included in restaurant bills and further tipping is unnecessary but leftover change is always appreciated.
Seerose
With one of the best locations in Zurich, the Seerose offers a romantic element to Zurich dining. Situated on the vast lake, guests are surrounded by water, quaint boats, city lights and majestic snow-capped mountains. Whether you are looking for a sunny and crisp lunchtime venue or an evening out, with a European flair, the Seerose will fulfil your expectations. Reminiscent of a yacht on the Mediterranean with elegant beachhouse trimmings, the Seerose serves up fresh cuisine ranging from seafood to curry. Start with goat's cheese and honey on a salad bouquet or a Salade Noel, with chicory, nuts, fresh fruits and an Indian sauce. Popular mains include moule et frites and duck l'orange or for the more adventurous, a red beef curry. Open daily for lunch and dinner, booking recommended.




CUISINE:

International


Address:

Seestrasse 493


Website:

seerose.dinning.ch
Chez Crettol
A trip to Switzerland would be incomplete without sampling traditional Swiss fare. A country famous for cheese, most notably the tasty Gruyere variety, communal dishes such as Raclette and Fondue are commonplace in both Swiss homes and upmarket restaurants. Ideal for a wintery treat, head to Chez Crettol where these particular dishes are the speciality. With a selection of Fondues to choose from, patrons can while away the time dipping, twirling and eating and finishing off with a zesty local white wine. For those who can't handle more than a few mouthfuls of bread, opt for Raclette, which is a combination of boilt potatoes, pickled onions and gherkins, drizzled with melted cheese, which is scraped off a melting block. For a heart-warming Swiss evening, a warm crackling fireplace and an understated environment that looks characteristically similar to a Swiss dining room, Chez Crettol is the place. Open daily for dinner.




CUISINE:

Local


Address:

Florastrasse 22, Kusnacht
Café Bar Odéon
This trendy cafe and bar, formerly a coffeehouse where the pre-revolutionary Lenin met intellectuals, has been transformed into a art-noveau eatery frequented by locals and tourists alike. Other celebrities to have dines here include the likes of Joyce, Einstein, Mata Hari and Mussolini. Nowadays it is the bourgeois chic crowd who like to dine on fine pasta dishes and other delicious dishes. This eatery remains open late so expect an eventful evening! Reservations recommended.




CUISINE:

Café


STYLE:

Trendy


Address:

Limmatquai 2


Website:

www.odeon.ch
Hummerbar
Located in the St Gotthard Hotel, the Hummerbar (Lobster Bar) is one of Zurich's top dining spots. The rich scarlet décor and dark wood creates the perfect setting for a romantic dinner. Fresh caviar, oysters and shellfish are flown in daily from Iran, and woven into the menu of classical French cuisine with a Mediterranean flair. Open Monday to Thursday for dinner and breakfast, lunch and dinner on weekends.




CUISINE:

Seafood


STYLE:

Romance


Address:

Hotel St Gotthard, Bahnhofstrasse 87


Website:

www.hotelstgotthard.ch
Veltliner Keller
Established in 1325 as a wine cellar and a restaurant in 1551, Veltliner Keller evokes a sense of history and charm in its detailed wooden panelling. Orginally used to store Italian-Swiss wines that were transported to Zurich over the Alps, this delightful restaurant offers wholesome, heart cuisine that will not disappoint. The seasonal menu includes Swiss and Italian dishes as well as the traditional Zurich dish, (sliced veal and mushrooms in a white wine sauce).




CUISINE:

Local


STYLE:

Romance


Address:

Schlüsselgasse 8


Website:

www.veltlinerkeller.ch
Blaue Ente
Situated on the site of a 300-year old mill, this slick modern restaurant draws trendsetters from the advertising and arts scene who are attracted by the modern approach to fresh ingredients and light cuisine. Duck ('blaue ente' means 'blue duck') is the house speciality and comes in various forms. Other dishes include fish and crustaceans, loin of lamb, vegetarian curry and pastas. Reservations recommended.




CUISINE:

Modern Eclectic


Address:

Seefeldstrasse 223


Website:

www.blaue-ente.ch
Zeughauskeller
The huge dining hall built in 1487, with thick stone pillars, wooden beams and a decorative ceiling, was originally the city's armoury, and the medieval character of the restaurant is highlighted by the décor, with weapons and paintings from the Middle Ages, and waitresses in old-fashioned costume. Known for its tasty traditional Swiss meals, the portions are hearty and served with local beer. Classic speciality dishes include the Zurich-style sliced veal and mushrooms and rösti potatoes. Zeughauskeller also offers a wide variety of different types of sausage. Open daily from 11.30am. Reservations recommended.




CUISINE:

Local


Address:

Bahnhofstrasse 28a, Paradeplatz (Left Bank)


Website:

www.zeughauskeller.ch
Zunfthaus Zur Zimmerleuten
Originally the carpenter's guildhall, Zunfthaus Zur Zimmerleuten is one of the architectural showpieces of Zurich. Up a flight of Baroque stairs, the elegant dining room serves up dishes that combine Zurich specialities with chef innovations, including the Lake Zurich fish soup with garlic rouille or the triple fillet accompanied with rösti and cream sauce. Reservations recommended. Open daily.




CUISINE:

Local


Address:

Limmatquai 40 (Right Bank)


Website:

www.zunfthaus-zimmerleuten.ch/
Kronenhalle
One of Zurich's most famous restaurants, Kronenhalle is the place to see and be seen, and over the years has attracted celebrity greats such as James Joyce, Pablo Picasso, Richard Strauss and Yves Saint-Laurent. The interior is decorated with original works of famous 20th-century artists including Picasso, Matisse and Miró. The fare is traditional Swiss and includes huge portions of rösti, a delicious herring in double cream, veal steak and duck liver. Reservations are essential.




CUISINE:

Local


Address:

Rämistrasse 4 (Right Bank)


Website:

www.kronenhalle.com
Rico's Kunststuben
Widely considered to be one of the finest restaurants in Switzerland, even perhaps the whole of Europe, maestro chef and owner Horst Petermann's award-winning reputation attracts the wealthy gourmets of Zurich and boasts a celebrity list that includes the Swiss president, singer Tina Turner (who lives nearby) and the emperor of Japan. The restaurant is in the lakeside town of Kusnacht, about 15 minutes from the city, housed in an elegantly decorated building that was once an art gallery. The menu changes regularly, and can include outstanding speciality lobster dishes or a number of other inventive dishes such as Tuscan dove, scampi lasagne in lemongrass sauce or stuffed squid with a fennel confit. All entrées, desserts and cheeses are of exceptional quality, as is the wine cellar. Open for lunch and dinner Tuesday to Saturday. Advance booking essential.




CUISINE:

French


Address:

Seestrasse 160, Küsnacht


Website:

www.kunststuben.com
Travel guide by (c) Globe Media Ltd. By its very nature much of the information in this travel guide is subject to change at short notice and travellers are urged to verify information on which they're relying with the relevant authorities. We cannot accept any responsibility for any loss or inconvenience to any person as a result of information contained above.