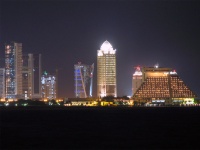 Best Restaurants in Doha
Visitors to Qatar are spoilt for choice when it comes to restaurant options in Doha. The cultural diversity of Doha is particularly evident when it comes to the various restaurant choices available throughout the city. Whether you''re after traditional middle-eastern delights, spicy Indian curries or familiar western favourites, you''re sure to find a restaurant serving something to your liking in Doha.
Issan
Issan Restaurant, at the Grand Hyatt Hotel, is a revolutionary Thai food restaurant. Instead of your traditional plate service restaurant Issan serves Thai food tapas style, which gives diners the opportunity to sample a wider range of dishes available on the menu. Diners choose a range of dishes from the restaurant's extensive menu, the dishes are set out in the middle of the table, allowing all the guests at the table to try out whichever dishes take their fancy. The restaurant's speciality is the pla yang bai tang (fish cooked in banana leaves), while the plaa telay (baby squid) and the khaeng pad ped yang (roast duck curry) will encourage a second visit to this gem of a restaurant. The desserts are equally enticing, particularly the sticky rice with mango.




CUISINE:

Thai


STYLE:

Trendy


Address:

The Grand Hyatt, West Bay Lagoon


Website:

www.restaurants.doha.grand.hyatt.com/isaan/default-en.html
Bukhara Indian Restaurant
Bukhara is one of the top Indian restaurants in Doha. Situated inside the Khalifa International Tennis and Squash Complex, a short ten minute walk from the coniche, Bukhara serves tantalising curries and mouth-watering kebabs as well as a host of other north Indian specialities. The decor is relaxing and the staff wear Aladdin-style pantaloons.




CUISINE:

Indian


STYLE:

Trendy


Address:

Khalifa International Tennis and Squash Complex near the post o
Café Lenôtre
Café Lenôtre serves a beautiful selection of sweet treats and gourmet gifts, to be enjoyed at the café or taken home and savoured. Menu favourites include the light almond croissants, the freshly baked Viennese pastries and the selection of delicious, hand-made chocolates. Open daily, table reservations recommended.




CUISINE:

French


Address:

Al-Emadi Centre, Al Salwa Road. There is also a branch at Villa


Website:

www.lenotre.fr/en/lenotre-monde.php
Italian Job
Italian Job is a wonderful restaurant set beside the Ramada Hotel pool area and serves authentic Italian cuisine at traditional wooden tables. The friendly, welcoming staff serve menu favourites such as lasagna and pizza, and the singing waiters keep patrons entertained. Reservations are recommended.




CUISINE:

Italian


Address:

Ramada Plaza, Al Salwa Road


Website:

www.ramadaplazadoha.com/food_drink/logodetails.php?id=18
La Cigelon
Housed on the lobby floor of La Cigale Hotel, this restaurant serves international cuisine with a Lebanese twist. The Sushi menu is sure to offer a delicious entrée to the vast selection of Lebanese main courses. Leave a spot for one of award-winning patisserie chef Alfredo Salduiero's decadent desserts...




CUISINE:

International


Address:

Suhaim Bin Hamad Street


Website:

www.lacigaleqatar.com
Al Dana Seafood Restaurant
Set in the Sharq Village and Spa, Al Dana is said to be the only ocean side restaurant in Doha. Decorated in traditional Qatar motifs, this restaurant tempts guests with its celebrated Marseilles fish soup. The Thai green curry with coconut milk and the steamed salmon with soy, ginger and cilantro are also mouth-watering. The delectable seafood served by this establishment is always fresh and satisfying.




CUISINE:

Seafood


STYLE:

Trendy


Address:

Sharq Village and Spa


Website:

www.sharqvillage.com
Al Hamra
Al Hamra restaurant has an expansive menu including Gulf, Lebanese and European cuisine. The Hamour Kabsa (slices of fish in fragrant yellow rice), grilled quail and mixed grill all come highly recommended. The perfectly grilled meat dishes are served with fresh bread, chips and red onions. This venue offers diners great privacy, with many tables set in secluded areas.




CUISINE:

Local


STYLE:

Trendy


Address:

Al Rayyan Road, towards the Amiri Diwan
Travel guide by (c) Globe Media Ltd. By its very nature much of the information in this travel guide is subject to change at short notice and travellers are urged to verify information on which they're relying with the relevant authorities. We cannot accept any responsibility for any loss or inconvenience to any person as a result of information contained above.