Kuala Lumpur
Travel Guide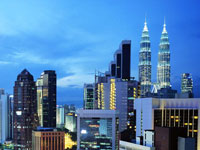 Best Restaurants in Kuala Lumpur
A melting pot of cultures and cuisines, eating out in the cosmopolitan city of Kuala Lumpur is a gastronomic exploration and a treat for the senses. With so many different cuisines on offer served in some exotic, trendy and stylish settings, visitors will have their hands (and mouths) full sampling the delicious fare on offer in Kuala Lumpur. But not all locals or travellers have the time or money to sit down to a three-course meal and many opt to dine, quite simply, on the side of the road making eating out quite literally ''eating out''. There are thousands of roadside stalls and food bazaars catering to all kinds of tastes and budgets and popular bites include (marinated and barbecued meat, normally chicken, beef or mutton), (savoury rice steamed in coconut milk) and chicken rice and fried noodles. Indigenous Malaysian cuisine is influenced by Thai, Indian and Chinese to produce new and exciting flavours and dishes such as , fried rice flavoured with pounded fried fish, rice cooked with coconut milk and served with anchovies, roasted nuts, cucumbers, a slice of egg, sambal (chilli paste) and curries.
Indian Muslim (Mamak) cuisine is especially fragrant with lots of spices, coconut milk, and curry leaves and is some of Kuala Lumpur''s most popular cuisine due to the wide range of dishes and speed at which they are prepared, while Malaysian Chinese cuisine still remains distinctly Chinese. Dishes such as (dried pork) is sold everywhere, while (stir fried noodles with prawns, eggs, pork and sprouts are popular with locals. With so many types of cuisines and types of eateries to explore, eating out in Kuala Lumpur is just another one of the city''s fabulous attractions and adds to the authenticity of the experience.
Seri Melayu
With a gable roof and opulent yet tasteful décor, Seri Melayu invokes an old world charm and sophistication and diners might feel as though they are attending a royal ball in the enormous dining room. Malay Cultural shows are performed each night while patrons sample delicious authentic Malay fare - a must for foreign visitors. Open Monday to Saturday for lunch and dinner. Bookings recommended.




CUISINE:

Local


Address:

1 Jalan Conlay


Website:

www.serimelayu.com
Pacifica Grill and Bar
A modern and stylish eatery with classic lines and tasteful décor, the Pacifica Grill and Bar serves some of the city's best seafood and is Kuala Lumpur fine dining at its best. With floor to ceiling glass windows, diners might feel as though they are in an aquarium while dining on some of the freshest seafood. Try the Boston lobster poached in oil served with horseradish mousse and cucumber vinaigrette or the Seared Hotate scallops served with ravioli, sauce vièrge and salicornia sea beans. There is one word to sum up the Pacifica - decadent. Open Monday to Saturday for dinner. Bookings essential.




CUISINE:

Seafood


STYLE:

Business


Address:

Mandarin Oriental Hotel, Kuala Lumpur City Centre


Website:

www.mandarin-oriental.com/kualalumpur
Eest
Located in the Westin this trendy restaurant is where Kuala Lumpur's upper crust can be found mingling and wining and dining in the casual Zen décor. Specialising in Pan Asian cuisine from five distinct kitchens featuring Thai, Chinese, Japanese, Malaysian, and Vietnamese cuisine, the cuisine has a modern and innovative approach and the quality of the food bears testament to this. Open daily for lunch and dinner. Bookings are essential and can be done via the website.




CUISINE:

Asian


STYLE:

Trendy


Address:

Westin Hotel, 199 Jalan Bukit Bintang


Website:

www.westin.com/kualalumpur
Bombay Palace
Specialising in North Indian cuisine, Bombay Palace is one of Kuala Lumpur's most popular restaurants and sees hundreds of locals and tourists dining here each week. With majestic décor fit for a king, Bombay Palace delivers. Try the Lamb Vindaloo if you can handle the heat or for dessert try the Dil Bahar or Pista Barfi. Open daily for lunch and dinner. Reservations recommended.




CUISINE:

Indian


STYLE:

Trendy


Address:

215 Jalan Tun Razak


Website:

www.bombaypalacerestaurantkl.com
Bon Ton
With Chinese Malay Kampung architecture and a stylish and clean interior dotted with antique furniture, Bon Ton is one of Kuala Lumpur's most popular eateries. With a stylish yet laid-back atmosphere, its location in the Lot 10 shopping mall may perturb some diners, but once you've tried the sesame crusted salmon fillet with roasted mashed potato and cream of chilli cilantro, there's no turning back. Open daily for lunch and dinner. Reservations recommended.




CUISINE:

Asian


STYLE:

Business


Address:

R1 & R2 Lower Ground Floor Lot 10 Shopping Centre, Jalan Sultan


Website:

www.bontonkl.com
Travel guide by (c) Globe Media Ltd. By its very nature much of the information in this travel guide is subject to change at short notice and travellers are urged to verify information on which they're relying with the relevant authorities. We cannot accept any responsibility for any loss or inconvenience to any person as a result of information contained above.