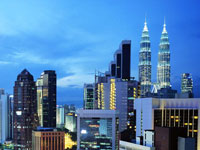 Best Restaurants in Kuala Lumpur
A melting pot of cultures and cuisines, eating out in the cosmopolitan city of Kuala Lumpur is a gastronomic exploration and a treat for the senses. With so many different cuisines on offer served in some exotic, trendy and stylish settings, visitors will have their hands (and mouths) full sampling the delicious fare on offer in Kuala Lumpur. But not all locals or travellers have the time or money to sit down to a three-course meal and many opt to dine, quite simply, on the side of the road making eating out quite literally ''eating out''. There are thousands of roadside stalls and food bazaars catering to all kinds of tastes and budgets and popular bites include (marinated and barbecued meat, normally chicken, beef or mutton), (savoury rice steamed in coconut milk) and chicken rice and fried noodles. Indigenous Malaysian cuisine is influenced by Thai, Indian and Chinese to produce new and exciting flavours and dishes such as , fried rice flavoured with pounded fried fish, rice cooked with coconut milk and served with anchovies, roasted nuts, cucumbers, a slice of egg, sambal (chilli paste) and curries.
Indian Muslim (Mamak) cuisine is especially fragrant with lots of spices, coconut milk, and curry leaves and is some of Kuala Lumpur''s most popular cuisine due to the wide range of dishes and speed at which they are prepared, while Malaysian Chinese cuisine still remains distinctly Chinese. Dishes such as (dried pork) is sold everywhere, while (stir fried noodles with prawns, eggs, pork and sprouts are popular with locals. With so many types of cuisines and types of eateries to explore, eating out in Kuala Lumpur is just another one of the city''s fabulous attractions and adds to the authenticity of the experience.