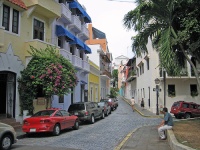 Things to do in San Juan
San Juan is the busiest cruise port in the Caribbean and a major tourist hub and destination for North American travellers. It is a city with much to offer its visitors: the beauty and history of the old town, artistic treasures of the Museo de Arte, and sun-soaked beaches only minutes from the city centre.
The best way to see the sights and experience the city''s attractions is to take a walking tour; either self-directed with a guide book, or led by a professional guide. The city is compact and flat, and so is ideal to explore on foot. One of the chief tourist attractions in San Juan will be below your shoes: the 500 year-old flagstones, first laid under the direction of Christopher Columbus. Take regular rests at the charming piazzas as you explore the old town - it can get busy and crowded as the day wears on.
High tourist season is from December to April, while June to November is far quieter (although the island can experience hurricanes during this period).