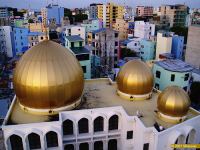 Male Overview
The bustling capital of the Maldives, Malé is overlooked by many tourists who head straight for the country's numerous resort islands; however the packed city offers a glimpse at another side of the popular tourist destination, one more representative of everyday life in the Maldives.
Far from the tranquillity of the five-star resorts that pepper the more popular islands, Malé moves at a brisk pace as the centre of government and commerce in the Maldives. Brightly-coloured buildings, business suits and bazaars rather than beaches are the order of the day, and the independent travellers that do take a holiday in Malé can sample cultural attractions like markets, mosques and museums in lieu of jungle hikes and watersports.
A predominantly Muslim city, the bars and restaurants in Malé are largely alcohol-free. The city is far from a nightlife hotspot, however a holiday in Malé is richly rewarding for travellers looking to see the true face of life in the Maldives.