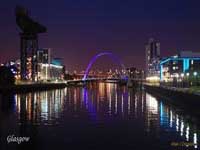 Best Restaurants in Glasgow
As the city gradually becomes more international and cosmopolitan, the restaurants in Glasgow follow suit. Celebrity chef Gordon Ramsay is from the fair city, and though it lacks an international reputation for fine dining, you''ll find plenty of good options when looking for places to eat Glasgow.
Interestingly enough, the restaurant scene in Glasgow has been named the ''Curry Capital of Britain'', and you''ll find a number of good Indian restaurants for all budgets, as well as the ubiquitous fish and chips takeaways. Glasgow is home to large immigrant populations, so there are tasty eateries that serve Greek, Korean, Lebanese, Spanish, Japanese, and Turkish cuisine in addition to the usual Chinese, Italian and Thai options.
Many Glasgow restaurants close for either Sunday or Monday. Diners are expected to tip waitstaff around 10%, or 15-20% for very good service. Smoking is prohibited in all restaurants and bars in Scotland.