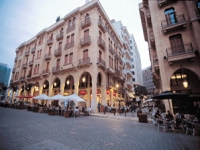 Best Restaurants in Tahiti
Of all countries which boast a ''Mediterranean diet'', Lebanon is one of the luckiest when it comes to the richness and variety of its fresh produce. Top-quality Lebanese restaurants are spread throughout Beirut - pick one where the produce is on display, as the freshness of the food is largely the point. The traditional Lebanese meal known as ''Mezze'' consists of up to thirty hot and cold dishes, including salads such as tabbouleh and fattouche, dips like hummus and moutabal, bite-sized lamb pies known as sambouseks, stuffed vine leaves, and the ubiquitous pita bread. You should definitely also try mankoushe (Lebanese pizza), ka''ek (massive, thyme-flavoured bagels), and the huge variety of Lebanese sweets that get turned out whenever there''s a religious or national event going on. For those who prefer international cuisine, don''t worry, Beirut is famously cosmopolitan, and has a huge array of high-end international dining options (most of them located in the Ashrafieh district, just east of Beirut''s CBD). International fast food outlets also abound in Beirut, for those times when you need to grab something in a hurry.
Balthus
Strictly for travellers with voluptuary budgets, Balthus is a very high-end French brasserie - regularly frequented by prominent businessmen, politicians and media personalities. The foie gras is excellent, and the wine list is out of this world.




CUISINE:

French


STYLE:

Business


Address:

Ave. des Francais, Beirut CBD
Felix
A classy yet unpretentious place, Felix makes for a great date venue. Serving solid international cuisine and inventive cocktails, the restaurant is widely renowned for its unbeatable ambience - and its location, in the trendy Ashrafieh district of downtown Beirut, is the ideal starting-point for a night on the town.




CUISINE:

International


STYLE:

Trendy


Address:

Damascus Road, Ashrafieh
Al Mayass
A very charming little place located in the heart of the downtown district of Ashrafieh, Al Mayass specialises in Armenian food (think rich lamb stew and yoghurt). The restaurant's chief attraction, however, is its cozy ambience and regular live music performances.




CUISINE:

Armenian


STYLE:

Romance


Address:

Wadih Naim Street, Ashrafieh


Website:

www.almayass.com
Corleone Trattoria
If you feel like Italian while in Beirut, why not try a place replete with a Godfather theme? Located in the hip downtown district of Gemmayze, the Corleone Trattoria makes delicious wood-fired pizzas, excellent pastas, and decadent desserts - and is a favourite meeting-point for party-goers on their way to the bars and clubs of the surrounding area.




CUISINE:

Italian


STYLE:

Trendy


Address:

Gourand Street, Gemmayze


Website:

www.corleonetrattoria.com
Abdel Wahab
This stylish Mezze-joint is located in an old 'Ottoman house', and can accommodate large groups of diners. It's located very close to the party scene on Monot Street, and is popular with young locals, who go there to socialise and grab a bite before hitting the town.




CUISINE:

Local


STYLE:

Trendy


Address:

Rue Abdel Wahab El-Inglizi, Ashrafieh
Al-Balad
Al-Balad is the best place to go for traditional Lebanese Mezze. Unpretentious and affordable, with beautifully fresh produce on hand, you can't go wrong with a long, leisurely lunch here. Their range of dips - including spicy red pepper hummus and smoked aubergine moutabal - is famous.




CUISINE:

Local


Address:

Rue Adhab, downtown Beirut
Travel guide by (c) Globe Media Ltd. By its very nature much of the information in this travel guide is subject to change at short notice and travellers are urged to verify information on which they're relying with the relevant authorities. We cannot accept any responsibility for any loss or inconvenience to any person as a result of information contained above.