Rio De Janeiro
Travel Guide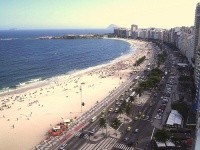 Best Restaurants in Rio De Janeiro
Brazilian cuisine is famous for its use of red meat, a fact deliciously confirmed when eating out in Rio. Churrascarias (Brazilian barbeque) is a simple beef dish, normally spiced only with salt, and often accompanied with feijão com arroz (rice and beans). Other meat may end up in feijoada, a traditional stew made with black beans. Local taste runs toward oily, sweet, and salty food, with a noticeable lack of spices. A popular treat is bacalhau (salted cod), which is usually imported from Norway. Good restaurants in which to look for traditional Brazilian food include Bar do Arnaudo in Santa Teresa, Marius in Copacabana, or Brasileirinho in Ipanema.
Lunch in Rio is an adventure for those on a budget. A range of street vendors selling everything from fruit to grilled prawns to cheese bread offer options for everyone. Use your own judgment regarding food safety by gauging the cleanliness of the stall (and vendor) and how popular it is with locals. The beach has many similar options, including oysters or shrimp tarts, and drinks like fresh coconut water out of the shell and bright purple açai juice. The Brazilian equivalent to MacDonald''s, Bob''s Burgers, will take your order and deliver to you right on the sand.
Coffee in Rio is traditionally drunk standing at a corner bar, but you''ll find a few cafés dotted around, like Café Severino, located in the famous Livraria Argumento bookstore; Jasmin Manga Cyber Café, which offers rare free internet access; or Café du Lage, in a beautiful Roman villa-esque building.
One popular type of Rio restaurant offers a pay-by-weight system where the customer selects his or her food from a buffet, bringing it to the chef to be cooked. This is a great way to sample a variety of different dishes, taking as much or as little as you like while the waiters mark your receipt. Take care to keep your receipt safe, though, as the fee for losing it is often very high. Frontera in Ipanema is a good example of this type of restaurant, or Fellini in Leblon.
There are also a few good organic and vegetarian restaurants in Rio, including Blyss Holy Foods in Ipanema, Universo Organico in Leblon, and the aptly named Vegan Vegan in Botafogo. Most restaurants in Rio de Janeiro are open from 11am to 4pm, and from 7pm to midnight. Some stay open all day, especially on Saturday when people stream in from the beaches at all hours. Restaurants usually add a 10% service charge to the bill, but waiters will appreciate another 5% if their service has been good. If the service is truly terrible, you can ask not to pay the service charge. Some restaurants do not take credit cards, so it''s best to ask up front if you don''t have cash.
Brasileirinho
Near the beach, this small and comfortable restaurant has an idyllic, rural atmosphere and its décor features handmade arts and crafts. The menu offers authentic, homemade Brazilian cuisine such as a plate of rice, beans, (toasted manioc flour), steak and French fries, or the traditional soup, with beans and bacon. Reservations recommended.




CUISINE:

Local


Address:

Rua Jangadeiros 10
Azul Marinho
As the name suggests, Azul Marinho is a quiet, sophisticated restaurant near the beach with a great seafood menu. Famed for their Moqueca (Brazilian seafood stew) with shrimp, cod, lobster, crab and octopus, the restaurant has a lovely outdoor dining area with ocean views from which to enjoy it. Open daily for lunch and dinner, reservations recommended.




CUISINE:

Seafood


Address:

Avenida Francisco Bhering S/N, Arpoador
Palaphita Kitch
With its rustic, eco-friendly décor (couches, wooden tables, lots of palm trees...) and its candlelit dining area, Palaphita Kitch has an idealistic yet somehow romantic atmosphere, backed by excellent views of Lagoa Rodrigo de Freitas. The menu offers a selection of exotic Amazonian cuisine, with its carpaccio being a favourite. Open every night for dinner, reservations recommended.




CUISINE:

Local


Address:

Avenida Epitacio Pessoa S/N, Quiosque 20


Website:

www.palaphitakitch.com.br
Paladino
Revel in merriment with the locals at this affordable eatery, where authentic Brazilian cuisine is served generously. Have a plate or platter depending on how hungry you are, the price difference is negligible. Sardine sandwiches are a good bet for your taste buds. The Paladino is always popular and beer flows steadily from the taps. Open Monday to Friday from 7am to 8.30pm, and Saturday from 8am till 12pm. Reservations and credit cards are not accepted.




CUISINE:

Brazilian


Address:

226 Rua Uruguaiana
Madame Butterfly
If you're in Ipanema and a sushi fan, be sure to stop by Madame Butterfly for some of the most original sushi to be had south of the equator. The innovation is Not so much the combinations themselves but the shapes, which are creative and, sometimes, a puzzle to eat. The fish with shimeji mushrooms in ginger and sake sauce come highly recommended.




CUISINE:

Seafood


Address:

472 Rua Barão de Torre
Confeitaria Colombo
The Confeitaria Colombo acts as an homage to an age long passed. Established in the late 1800s, this Victorian style hall turned restaurant hasn't changed much in over 100 years, so they must be doing something right. This is considered to be a perfect lunch or light tea spot for execs doing business in the city. Tea meals are complemented by breads and condiments, while the meals are filling and appetising.




CUISINE:

Brazilian


Address:

32 Rua Gonçalves Dias


Website:

http://www.confeitariacolombo.com.br
Carême
They say that dynamite comes in small packages and that couldn't be more true of Carême. Located in a cozy home in Botafogo, the venue exudes romance. The menu is minimalist but packs a delicious punch. The hours are short (only open for dinner) and the time in the restaurant certainly flies. Friendly and efficient service are the cherry on top of delectable French cuisine. Reservations essential.




CUISINE:

French


Address:

113 Rua Visconde de Caravelas
Asia Restaurant
High up in the hills of the Santa Teresa artist community, Asia is a stylish and modern restaurant warmed by dark wood furnishings and a soft paper lantern glow. While Asia is known for its dim sum selection (similar to Spanish tapas), the menu also offers Malaysian stir-fries and satay, as well as various curry and tofu dishes. 'Art in a glass' flower tea adds a beautiful finishing touch. Open on Wednesday for dinner and Thursday to Sunday for lunch and dinner, reservations recommended.




CUISINE:

Asian


Address:

Rua Almirante Alexandrino 256


Website:

www.asia-rio.com
Fellini
Not only does Fellini offer a variety of international cuisine, with everything from Japanese to Mexican food available, but it's all sold 'by the pound' allowing diners a choice of exactly how big their portions should be. Fellini has a funky, laid-back atmosphere and look to match. Open Tuesday to Sunday for lunch and dinner, reservations recommended.




CUISINE:

International


Address:

Rua General Urquisa 104


Website:

www.fellini.com.br
Copacabana Palace Hotel Restaurants
The Copacabana Palace Hotel houses two of Rio de Janeiro's most elegant restaurants. The Hotel Cipriani Restaurant serves excellent north Italian cuisine to guests in an elegant dining area, while the poolside Pérgula Restaurant offers a buffet breakfast, and delicious South American meals. Cipriani is open Monday to Saturday for lunch and dinner, with Pérgula open for breakfast, lunch and dinner during the week and from 12.30pm to 4.30pm on weekends. Reservations required.




CUISINE:

International


Address:

Avenida Atlântica 1702


Website:

http://www.copacabanapalace.com/web/orio/restaurants_introduction.jsp
Travel guide by (c) Globe Media Ltd. By its very nature much of the information in this travel guide is subject to change at short notice and travellers are urged to verify information on which they're relying with the relevant authorities. We cannot accept any responsibility for any loss or inconvenience to any person as a result of information contained above.