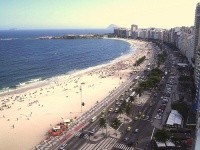 Best Restaurants in Rio De Janeiro
Brazilian cuisine is famous for its use of red meat, a fact deliciously confirmed when eating out in Rio. Churrascarias (Brazilian barbeque) is a simple beef dish, normally spiced only with salt, and often accompanied with feijão com arroz (rice and beans). Other meat may end up in feijoada, a traditional stew made with black beans. Local taste runs toward oily, sweet, and salty food, with a noticeable lack of spices. A popular treat is bacalhau (salted cod), which is usually imported from Norway. Good restaurants in which to look for traditional Brazilian food include Bar do Arnaudo in Santa Teresa, Marius in Copacabana, or Brasileirinho in Ipanema.
Lunch in Rio is an adventure for those on a budget. A range of street vendors selling everything from fruit to grilled prawns to cheese bread offer options for everyone. Use your own judgment regarding food safety by gauging the cleanliness of the stall (and vendor) and how popular it is with locals. The beach has many similar options, including oysters or shrimp tarts, and drinks like fresh coconut water out of the shell and bright purple açai juice. The Brazilian equivalent to MacDonald''s, Bob''s Burgers, will take your order and deliver to you right on the sand.
Coffee in Rio is traditionally drunk standing at a corner bar, but you''ll find a few cafés dotted around, like Café Severino, located in the famous Livraria Argumento bookstore; Jasmin Manga Cyber Café, which offers rare free internet access; or Café du Lage, in a beautiful Roman villa-esque building.
One popular type of Rio restaurant offers a pay-by-weight system where the customer selects his or her food from a buffet, bringing it to the chef to be cooked. This is a great way to sample a variety of different dishes, taking as much or as little as you like while the waiters mark your receipt. Take care to keep your receipt safe, though, as the fee for losing it is often very high. Frontera in Ipanema is a good example of this type of restaurant, or Fellini in Leblon.
There are also a few good organic and vegetarian restaurants in Rio, including Blyss Holy Foods in Ipanema, Universo Organico in Leblon, and the aptly named Vegan Vegan in Botafogo. Most restaurants in Rio de Janeiro are open from 11am to 4pm, and from 7pm to midnight. Some stay open all day, especially on Saturday when people stream in from the beaches at all hours. Restaurants usually add a 10% service charge to the bill, but waiters will appreciate another 5% if their service has been good. If the service is truly terrible, you can ask not to pay the service charge. Some restaurants do not take credit cards, so it''s best to ask up front if you don''t have cash.