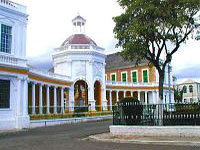 Things to do in Kingston
Sightseeing in Kingston has a split personality due to the city''s colonial past. Visitors will find attractions like Devon House and Spanish Town with grand British and Spanish architecture next to bustling markets with a distinctly Afro-Caribbean flavour.
Despite Kingston''s chequered past, visitors shouldn''t miss touring the stately mansions and art galleries alongside the beaches and Bob Marley sights. Further from the city, the Blue Mountains offer a wild experience with waterfalls, hiking, and tours of thoroughly-modernised coffee plantations. Kingston has come a long way, and is sure to have something to do and see for everyone.