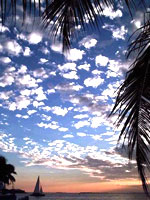 Florida Keys Overview
Stretching from Miami to Key West, the southern leg of US Highway 1 covers 113 miles (182km) across 42 bridges, leapfrogging the Florida Keys, a necklace of coral islands strung across the Atlantic Ocean and Gulf of Mexico. Key West, the very last of the Keys, is the southernmost point of the continental United States.
The Keys are a favourite destination for Americans and international tourists, who are drawn by the world-renowned seafood restaurants, funky towns, shopping, nightlife and laid-back ambience of the local communities. Others come to enjoy watery activities like scuba diving and deep-sea fishing, or explore the relics of this historically rich area.
The city of Key West can be reached from Miami in less than four hours by road, passing through the scenic vistas of the individual keys, a world of emerald-green lagoons, deep blue sea, nodding palms, rustling pines and mangrove swamps. Seabirds populate this eco-paradise and offshore countless sea creatures are protected in the Florida Keys National Marine Sanctuary.
Key Largo, longest island in the chain and closest to Miami, is particularly popular for diving, and is famed for its underwater preserve, the John Pennekamp Coral Reef State Park, and an underwater hotel where couples can tie the knot below the waves.
Between Key Largo and Key West the highway crosses the amazing Seven Mile Bridge, largest segmental bridge in the world, situated at Marathon, where visitors can swim with dolphins at the Dolphin Research Center.