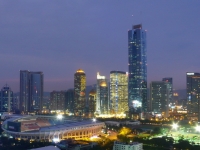 Things to do in Guangzhou
There are many wonderful things for visitors to see and do in Guangzhou, with some of its most appealing attractions being its historic religious structures, an array of interesting museums and some beautiful parks and gardens. The Chime-Long Group offers an exciting family entertainment set up for visitors to enjoy with circuses and waterparks, while the Guangdong Provincial Museum provides a good overview of the region and its history. The Guangzhou City Art Museum is one of the best in China, with impressive exhibits of traditional Chinese calligraphy and paintings, while the Guangdong Museum of Art houses more modern collections.
Guangzhou has a unique tourist attraction in Shamian Island, a former colonial outpost: the European architecture and manicured lawns are dotted with many shops and cafes. The Temple of the Six Banyan Trees is another popular Guangzhou attraction, and the South China Botanical Garden and Baiyun Mountain are also good to visit.