Endless Thai Summer Adventure
Posted: Jun. 4th, 2008 | By JustLuxe Team
Luxury Adventure: Before making your way to the region of Indo-China, a pit stop in Bangkok is a must for any worldly traveler. Stay in the heart of the city at the Siam Heritage Hotel or live in luxury at the five-star Peninsula Hotel Bangkok. In this sparkling city you will find the Grand Palace, the Royal Barges Museum and some of Asia's finest dining. When the sun sets, it's time to hit the clubs. Bangkok's nightlife has come a long way and has proudly established itself as "Asia's capital of cool." With everything from jazz clubs and trendy cafes to endless nights of dancing, Bangkok's diverse nightlife scene has something for everyone. After a week of nonstop action, it's time to dig further into your exploration. Experience Phuket via tent accommodations located in the middle of the jungle. Spend your days surfing monstrous waves and cutting through massive swells in your two-man kayak. Whittle your own spear out of bamboo, wade through the shallow waters of the Andaman Sea and come face to face with your dinner. With a radiant sunset as a backdrop, dine on your Siamese carp and mingle with the natives as you prepare for an early morning elephant trek.

Days 1-2
After arriving in Krabi, you are transferred to your oceanfront villa at the Centara Grand Beach Resort, located just 30 minutes from the Krabi airport. Maintaining a traditionally Thai ambiance, the resort offers a wide array of amenities, beautifully appointed villas with extensive terraces and sweeping panoramic views of white sandy beaches, lapped by crystal clear waters. The following day is to be spent at your leisure, whether it's strolling through the collection of shops in Ao Nang, taking a day trip to the Phra Nang Cave or combing the warm sandy beaches of West Railay. While these beaches are known to attract Westerners, it is the palm-fringed beaches of Ko Lao Liang, which are considered to be local favorites. Against a backdrop of towering limestone cliffs, watch as the colorful clownfish flash through the glistening coral reefs as you enjoy an afternoon aboard your long-tail boat. A trip to Thailand wouldn't be complete without passing through the province of Phang-Nga, stopping at the rural villages and plantations scattered along the way. Jump on a dinghy and wade through the rivers that flow through the mangrove forest or grab a paddle and explore the smaller channels by canoe. Enjoy a traditional Thai lunch aboard a Classic Burmese Junk before heading to Khao Sok.

Days 3-4
From your tailor-made tent set in the remote jungle camp of Elephant Hills, you'll awake to the beckoning calls of monkeys and gibbons. As Thailand's first luxury jungle camp, Elephant Hills provides a unique and truly unforgettable experience. By day, explore the vast and varied jungle terrain. As the sun sets, make your way back to camp, light a fire and take a moment to absorb your surroundings. Since there is a lot to take in, you'll have two days to trek through the Khao Sok rainforest. Like the jungle explorers of yesteryear, your meals will be cooked in bamboo.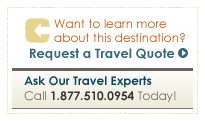 Days 5-7
Your jungle excursion comes to an end as you make your way to the picturesque beaches of Phuket. With accommodations at the Kata Beach Resort, you'll find an inner peace you never knew existed. The resort's lush tropical gardens, cascading fountains and spectacular views of Kata Bay and Crab Island make for an ideal ending to your awe-inspiring week. While in Phuket, be sure to visit Old Phuket Town, Wat Chalong and Thaweewong Road. Enjoy a farewell dinner at the Watermark or the Oriental Spoon before you dance the night away at the Seduction Discotheque.

Find more exciting adventures at Explorient
Related Topics :