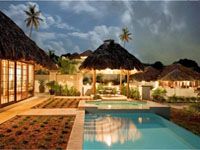 Luxury Travel:
What is your top destination choice? Do you enjoy a quaint log cabin, surrounded by magnificent mountain views, in world class ski locales? Or are you the Avid golfer who likes to spend time mastering the most challenging courses across the world? Maybe you live for the excitement of city life found in some of the world's greatest metropolitans. Over the years, after growing our portfolio to nearly 50 destinations world-wide, our yearly member surveys have told us that most members prefer to the tropics for their getaways.
It is easy to see why Members of Destination Clubs choose beaches and shores as their number one destination choice. Vacationing in the world's most desired tropical paradises offers travelers a true getaway from everyday stress - with secluded beaches, endless activities, and local fare. Below are two of the favorites from Ultimate Escapes Members and some tips from their last vacation.
Nevis, BWI - British West Indies:
Named Dulcina, or "Sweet Island," by early British Settlers, Nevis remains an intimate Caribbean island where relaxation is the rule and beauty is abundant. With the regal heights of Nevis Peak to the depths of the clear blue Caribbean, there is so much for families to explore on this secluded paradise. Charter a boat for a day and snorkel in the crystal blue water while discovering the local marine life or scuba dive directly into the sea life and explore sunken ships and natural reefs! Other activities to enjoy include horseback riding on the shore, a hike through the rainforest, a historical tour of sugar plantation ruins from the late 1800's, or simply calming walks on the beach.
"If there is a heaven, then it must be like Nevis -- we can't wait to go back"
- Susan Mansfield, Ultimate Escapes Member
*For more information on these tips Contact the Nevis Island tourism Board.
Cabo San Lucas, Mexico
As one of Mexico's top resort destinations, Cabo San Lucas is a perfect combination of luxury, adventure and exotic history. It is considered by Ultimate Escapes members as the ideal vacation destination for kids and grownups alike. ATV Tours through the desert and to the beach, Sunset beach tours by horseback, deep sea fishing in a destination nick-named "Marlin Capital of the world" and catching the end journey of a 6,000 mile migration of the gentle giants of the Sea of Cortez, The Gray Whales, are just a short list of the endless number of activities and adventures our members suggest.
Be sure to enjoy the local fare - there is a restaurant to experience for every meal of the day. Enjoy Breakfast at The Office, Lunch at Cabo Wabo Cantina, and Dinner at Ruth Chris. For those who enjoy cooking, visit the local markets and pick up some of the local specialties and put together an enjoyable meal for you and your family. There is nothing better than enjoying delicious local cuisine in the beautiful setting of Cabo San Lucas.
"From your accommodations combined with the local attractions to the lure of the ocean, Cabo San Lucas cannot be beat!"
- Danette Stewart, Ultimate Escapes Member
*For more information on these tips contact the Los Cabos Tourism Board.
Article by: Honora Mastriacovo
Freelance writer with Ultimate Escapes Luxury Destination Clubs
www.ultimateescapes.com
Los Cabos
Nevis