Dubai hotels With so much to do and see in Dubai, it's easy to find the right hotel.
Dubai
Travel Guide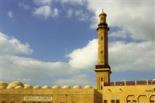 Grand Mosque
Boasting the city's tallest minaret at 230 feet (70m), the Grand Mosque is a notable landmark with its multi-domed style and impressive size. It is an important place of worship and can accommodate up to 1,200 worshippers inside. Non-Muslims are not permitted to enter the Mosque.


Address: Al Mussalla Road
Travel guide by (c) Globe Media Ltd. By its very nature much of the information in this travel guide is subject to change at short notice and travellers are urged to verify information on which they're relying with the relevant authorities. We cannot accept any responsibility for any loss or inconvenience to any person as a result of information contained above.