Seoul hotels With so much to do and see in Seoul, it's easy to find the right hotel.
Seoul
Travel Guide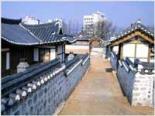 Namsangol Hanok Village
Set among the skyscrapers, the Namsangol traditional Korean village comes as a pleasant surprise. Centred on five restored Korean historical homes depicting various social levels from the Joseon Dynasty, the village is a time capsule in the midst of the city with its peaceful pond and pavilion. Visitors can not only explore the houses, but also enjoy traditional tea, shop for souvenirs, browse traditional crafts, or try their hand at ancient games like 'neolttwigi' (jumping on a see-saw) or arrow throwing. At weekends in summer traditional wedding ceremonies are held at midday.


Address: 84-1 Pildong 2-ga, Jung-gu
Telephone: +82 (0)2 2266 6
Transportation: Subway station Chungmuro line 3 and 4, and a five-minute walk from Exit 3
Opening Time: November to March 9am to 6pm; June to August 9am to 8pm; September to October 9am to 7pm. Closed on Tuesdays.
Admission: Free
Travel guide by (c) Globe Media Ltd. By its very nature much of the information in this travel guide is subject to change at short notice and travellers are urged to verify information on which they're relying with the relevant authorities. We cannot accept any responsibility for any loss or inconvenience to any person as a result of information contained above.