Riyadh hotels With so much to do and see in Riyadh, it's easy to find the right hotel.
Riyadh
Travel Guide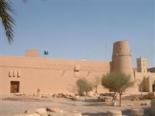 Al Musmak Castle
An important landmark and heritage site in the city of Riyadh, the Musmak fortress was built around 1865 and is the site associated with the foundation of the Saudi Arabian kingdom as the original stronghold of King Mohammed bin Abdullah bin Rasheed. The castle is open to the public, who can explore its impressive rooms, pillared mosque, gate, watchtowers and well.


Address: Al-Bathaa, city centre
Opening Time: Saturday to Thursday 8am-12pm and 4pm-9pm. Men only on Saturday, Monday and Wednesday. On the other days women may visit accompanied by male family members.
Admission: Free
Travel guide by (c) Globe Media Ltd. By its very nature much of the information in this travel guide is subject to change at short notice and travellers are urged to verify information on which they're relying with the relevant authorities. We cannot accept any responsibility for any loss or inconvenience to any person as a result of information contained above.