Abu Dhabi hotels With so much to do and see in Abu Dhabi, it's easy to find the right hotel.
Abu Dhabi
Travel Guide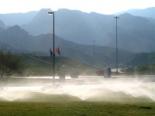 Liwa Oasis
Numerous local tour operators in Abu Dhabi offer trips from the city to the famed Liwa Oasis, about three hours drive away along a modern highway. This green, agricultural strip at the edge of the Rub Al Khali ('Empty Quarter') is surrounded by desolate desert with farms abutting towering sand dunes. Visitors enjoy overnight camel trips to camp in the desert. The oasis, made up of a string of small towns and villages, is resplendent with pools of fresh water and date plantations, and is the ancestral home of the Bani Yas tribe from whence sprang Abu Dhabi's ruling family.
Travel guide by (c) Globe Media Ltd. By its very nature much of the information in this travel guide is subject to change at short notice and travellers are urged to verify information on which they're relying with the relevant authorities. We cannot accept any responsibility for any loss or inconvenience to any person as a result of information contained above.