Prague hotels With so much to do and see in Prague, it's easy to find the right hotel.
Prague
Travel Guide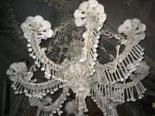 Kutna Hora
In the 14th century Kutna Hora was the second biggest town in Bohemia after Prague due to the discovery of silver. Today visitors come to appreciate the history of a once booming town where the Royal Mint was founded, and to marvel at the architecture of this UNESCO World Heritage Site. Its greatest monument is the exquisite church of Santa Barbara, built to rival Prague's St Vitus Cathedral, a pinnacled Gothic achievement financed by the miners and dedicated to their patron saint Barbara. Among the town's many churches and attractions is the Hr??dek Mining Museum, popular for its medieval mineshaft tours. The bizarre but fascinating Gothic ossuary, decorated with the bones of about 40,000 people and arranged into shapes, notably chandeliers, a coat of arms and pyramids, is a macabre but popular attraction.
Travel guide by (c) Globe Media Ltd. By its very nature much of the information in this travel guide is subject to change at short notice and travellers are urged to verify information on which they're relying with the relevant authorities. We cannot accept any responsibility for any loss or inconvenience to any person as a result of information contained above.