Prague hotels With so much to do and see in Prague, it's easy to find the right hotel.
Prague
Travel Guide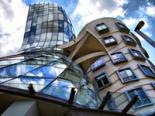 Miluni?¶ and Gehry's Dancing House
This unique building is so famous it even had a coin issued with its likeness printed on it, celebrating ten years of architecture in the Czech Republic. Designed by Croatian-born Czech architect Vlado Miluni?¶ together with renowned Canadian architect Frank Gehry, it was orginally named `Fred and Ginger`, reflecting a woman and man (Ginger Rogers and Fred Astair) dancing together. The building was designed in 1992 and completed in 1996. Construction is from 99 concrete panels each of different shape and dimension, each therefore requiring a unique wooden form. The building is a popular tourist photo opportunity, though there is nothing of interest inside.


Address: Ra¬??≠novo n??b?łe¬??≠ 80
Website: www.galinsky.com/buildings/dancinghouse
Travel guide by (c) Globe Media Ltd. By its very nature much of the information in this travel guide is subject to change at short notice and travellers are urged to verify information on which they're relying with the relevant authorities. We cannot accept any responsibility for any loss or inconvenience to any person as a result of information contained above.